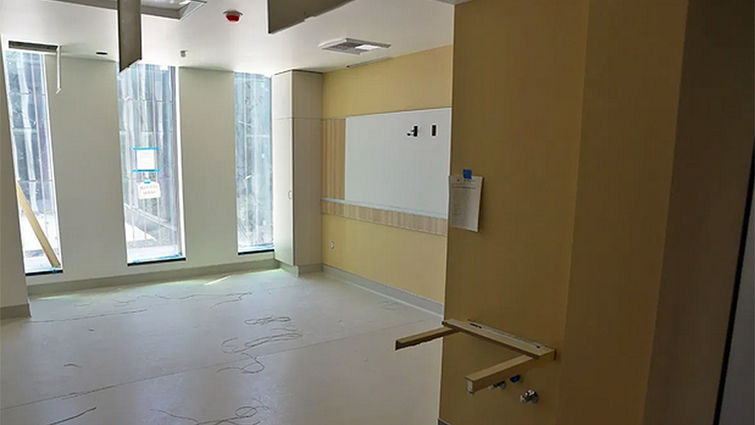 Floors seven to 10 in the new adult hospital tower will house our three ICUs and our Cardiac Progressive Care Unit. These four floors are set up to provide the critical care and life support for the most acutely ill and injured patients. Doctors, nurses and other health care providers offer highly skilled care to our patients who have been admitted to Loma Linda University Medical Center's ICU suffering from a variety of medical, surgical, and trauma conditions.
Shared features across each floor include:
•    32 single occupancy patient rooms (16 rooms per wing)
•    Two med prep rooms (one per wing)
•    One dedicated staff lounge with locker storage per floor
•    Three on call rooms (located in the core) per floor
•    Two physician workspaces (one office space on the west wing and a large team room on the east wing)
•    Lactation rooms for staff on select units
•    Specialized ICU Equipment
•    Rooms dedicated to cardiac monitoring
Service line designations by floor are:
•       Floor 7: Surgical, Trauma, Transplant, and Neuroscience ICU
•       Floor 8: Medical ICU
•       Floor 9: Cardiac and Cardio-thoracic  ICU
•       Floor 10: Cardiac Progressive Care Unit
The ongoing hospital construction is a part of Loma Linda University Health's Vision 2020 – The Campaign for a Whole Tomorrow. New buildings for adult patients and an addition to  Loma Linda University Children's Hospital will exceed California's upcoming seismic requirements for hospitals.
You can follow the rise of the towers on a daily basis by checking the construction web cams.
We're sharing photographic updates of the hospital construction work on a periodic basis. Watch for special emphasis on some of the behind-the-scenes-views and untold stories at the Vision 2020 website.
Dennis E. Park posts regular updates and photos on the project, which appear on the website www.docuvision2020.com.