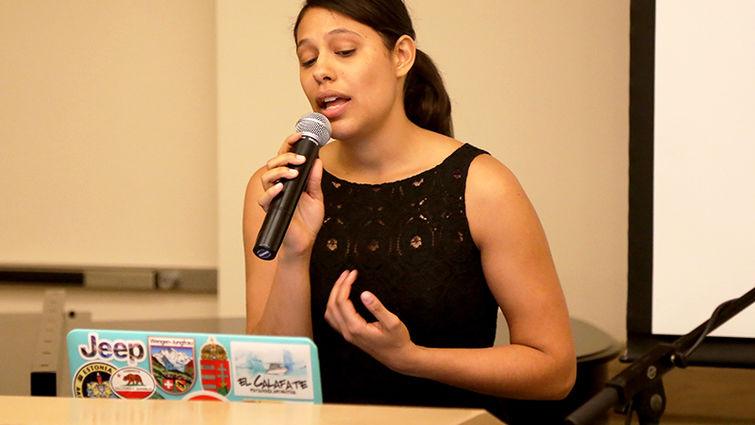 After an opening prayer by Tamara Shankel, MD, associate dean for clinical education at Loma Linda University School of Medicine, Daisy De Leon, PhD, professor and assistant to the dean for diversity, welcomed an estimated 40 guests to the Third Annual Hispanic Heritage Vespers and Dinner on Friday, October 28, and noted that the event coincides with National Hispanic Heritage Month.
In his remarks, Roger Hadley, MD, dean, encouraged the students to consider returning to teach as members of the LLUSM faculty after completing their education. After the event was over, he had high praise for De Leon and her staff.
"It was a delightful evening," Hadley observed. "I want to thank Dr. Daisy De Leon and her staff for organizing this event that highlights the importance of the contributions and camaraderie of our Hispanic colleagues."
Carlos Casiano, PhD, professor and associate director of the Center for Health Disparities and Molecular Medicine, presented a PowerPoint on notable Hispanic Americans from a wide variety of backgrounds.
"Throughout the history of our country, men and women of Hispanic/Latino heritage have made very important contributions to science and exploration, medicine, the arts, sports, government, military, and social justice," Casiano observed. "These individuals have dedicated their lives to their professions and to serving our country and their communities, opening paths for other Hispanics/Latinos to follow."
In a spirited rendition of Nichole C. Mullen's "I Know My Redeemer Lives," Laryssa Do Ouro-Rodrigues, a first-year medical student, sang with passion and enthusiasm. In a private conversation later, she playfully satirized her performance: "If you're gonna be a bear," Do Ouro-Rodrigues quipped, "be a grizzly!"
Marino De Leon, PhD, director of the Center for Health Disparities and Molecular Medicine, blessed the food and dismissed guests to the buffet. During the meal, Joshua Wendt, a third-year medical student, performed arrangements by Bach, Kohayashi, and Ferrara on classical guitar.
Nephtali R. Gomez, MD, assistant professor and director of the surgery clerkship, delivered the keynote address titled, "Mentors: Who are They? Why do We Need Them?" Gomez recalled the essential mentors of his own life before retelling the story of three famous mentors who significantly impacted the world: Leo Tolstoy, Mohandas Gandhi, and Martin Luther King, Jr.
Gomez said Tolstoy's concept of love—based on the Sermon on the Mount and detailed in his book, The Kingdom of God is Within You—exerted a powerful influence on Gandhi's practice of nonviolent resistance, which, in turn, informed the philosophy of Martin Luther King, Jr., during the American civil rights movement of the 1960s.
Ivana Alicea, a basic sciences PhD student, offered the final musical selection, "He Will Not Let Go," by Laura Story. Alicea sang from her heart and soul. Her powerful performance elicited a vivid response from the audience:
It may take time, on this journey slow
What lies ahead, I'm not sure I know
But the hand that holds this flailing soul
He will not let go.
De Leon thanked the audience for attending and introduced Tamara Thomas, MD, vice dean for academic affairs, who offered the closing prayer.