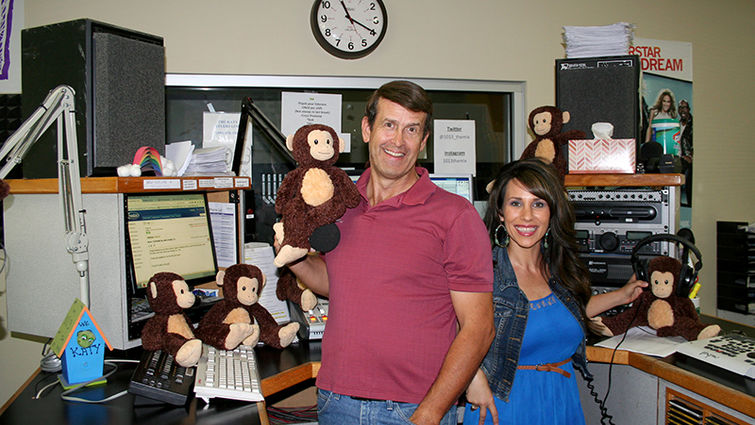 Temecula pop powerhouse 101.3 FM The Mix raised $9,135 to benefit the patients of Loma Linda University Children's Hospital (LLUCH) during the 7th annual 101.3 The Mix Cares Radiothon and Auction, which was held on Friday, September 23.
According to Tiffany Hoekstra, senior development officer for Corporate Champions at LLUCH Foundation, participation in the radiothon was not limited to people in the Temecula/Murrieta area.
"People could also listen online," Hoekstra observes. "In addition to the station's local service area, we got donations from Loma Linda, Las Vegas, and other areas. People were just calling in from everywhere."
Hoekstra explains that besides the radiothon, the station—which is also known as KATY FM—played recorded patient testimonials and held an auction in which sports memorabilia, hotel stays, and amusement park tickets were sold to the highest bidder. She adds that the station also indulged in a bit of monkey business.
"For every $25 donated, a cuddly monkey doll—called The Mix Monkey—was sent to a patient at Children's Hospital," she says. "The donor's name was inscribed on the monkey's wristband."
While noting that all funds raised by the event will go directly to the Vision 2020 campaign at LLUCH to help insure that patients receive the very best care, Hoekstra adds that this year's radiothon was one of the most successful to date.
"Last year, the radiothon raised $5,200 and in 2014, it raised $7,380," she recalls. "The best year was 2012 when it brought in $9,700. This year's $9,135 is outstanding. People are starting to recognize the importance of this annual event and looking forward to supporting it each year."
Mike Hood, director of sales and operations manager for 101.3 The Mix, outlines the reason the station has hosted the event for the last seven years.
"There is no greater cause to everyone at All Pro Broadcasting," Hood reports. "Many of us have toured Children's Hospital and to say that all of the staff there are amazing doesn't give enough credit to the quality of care that the children and their families receive. I know I speak for all of us when I say THANK YOU for blessing our children and for wearing a smile when smiles are hard to come by."
Hoekstra expresses a similar note of gratitude.
"We could not be more grateful to the management and staff of 101.3 The Mix for their willingness to do this year after year," she concludes. "They really care about kids and it shows!"