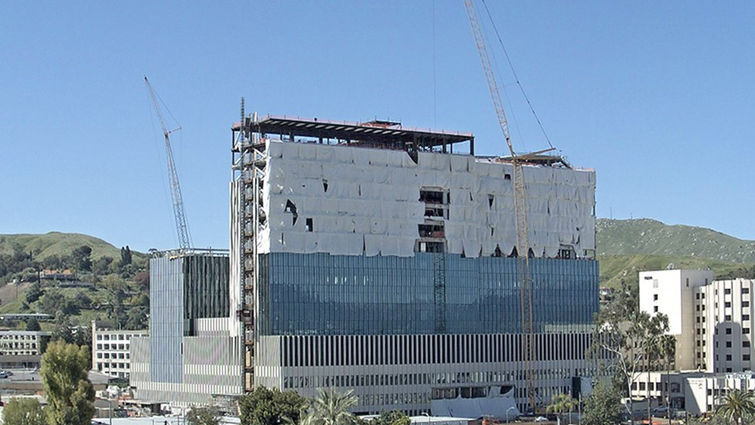 Dozens of temporary tarps were used to cover the Adult Hospital and Children's Hospital towers as the construction effort progressed through early spring 2019. These tarps play an important role in the construction of a building especially as the building nears the build-out (the framing of the floors, which delineates the rooms) phase. The tarps play a key role in preventing wind, rain and dust from entering the work area
Crews spraying the fire-retardant Monokote on the structure's steel columns and beams also use tarps to prevent overspray on the concrete floors and adjoining spaces that have been previously sprayed.
Once a floor's windows and the Glass Fiber Reinforced Concrete exterior panels are installed, the temporary tarps are no longer needed.
By early April, the top two floors (Floors 14 and 15) on the southwest wing of the adult tower and  Floors 14 through 16 (the top three floors) on the southeast side were still being protected with the temporary tarps. By mid-April both wings of the south side of the Adult Hospital tower were covered with GFRC panels, with tarps remaining only on the top floors of the Elevator tower.
The new Medical Center will house 320 beds for adult patients, while the new Children's tower will give Children's Hospital a total of 373 licensed beds. The new facilities will also be a place where 4,700 Loma Linda University students and 700 residents will progress in their education.
The massive construction project is a part of Loma Linda University Health's Vision 2020 – The Campaign for a Whole Tomorrow. New buildings for both hospitals will meet and exceed California's upcoming seismic requirements for hospitals.
We're sharing photographic updates of the hospital construction work on a periodic basis. Watch for special emphasis on some of the behind-the-scenes-views and untold stories at the Vision 2020 website.
This vignette is adapted from a blog by Dennis E. Park, which appears on the website www.docuvision2020.com.