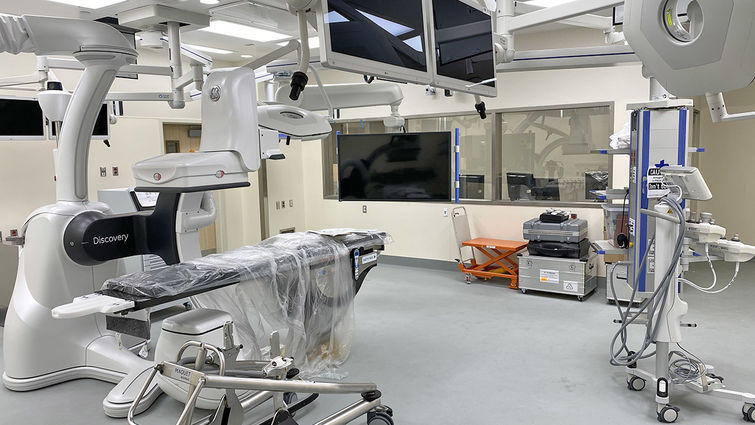 Patients come to Loma Linda University Medical Center for anything from routine to unexpected lifesaving surgeries in a wide variety of procedures, including general surgery to transplant, trauma, and more. The new adult hospital's third floor has been designed to better serve patients by placing all operating rooms in close proximity to 39 Pre-Op bays, and 24 PACU spaces (Post-Anesthesia Care Unit). Three endoscopic procedure rooms are located adjacent to the Pre-Op/PACU spaces.
There will be 20 operating rooms designed for a range of standard and innovative procedures, including less invasive surgical approaches. Loma Linda University Health surgeons will be able to treat some of the most complicated and life-threatening medical conditions using the latest technology. The new surgical area provides space for entire teams to work together efficiently.
The Future of Surgical Care: the Hybrid Operating Room
The new hospital will include two hybrid operating rooms, merging minimally invasive and traditional surgical science with advanced imaging technology in real time. The purpose of this type of operating room is improved outcomes with less trauma, less scarring, and shorter hospital stay with faster rehabilitation.
Hybrid operating rooms also allow surgeons from different specialties to work together treating multiple medical issues in a single episode of care. This integrated approach addresses critical care situations, limiting additional procedures and reducing possible complications.
Development of Loma Linda University Health's new adult medical center and Children's Hospital tower has been a key component of Vision 2020 — A Campaign for a Whole Tomorrow.
This vignette is adapted from a blog by Dennis E. Park. who has been visually documenting the hospital construction work since the project's beginning. You can see thousands of construction photos on his website, www.docuvision2020.com.