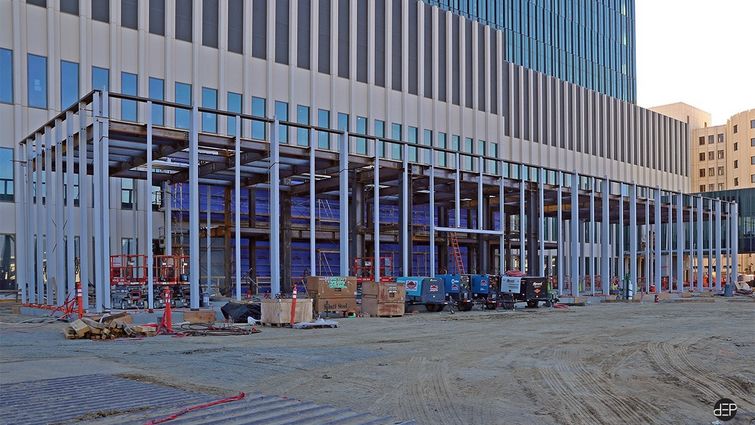 The grand entrance into Loma Linda University Health's future hospital will be through what has become known as "The Galleria." The entrance area has been designed to be a visual statement of Loma Linda University Health's commitment to whole person care. The entrance area is intended to welcome patients and visitors to a calming setting during their initial arrival at the future hospitals.
Construction workers spent three days at the end of January putting the steel framing for the galleria in place. The galleria is a two-story, self-standing structure, and has approximately 7,500 square feet. Three specific areas will be located in the galleria structure:
Children's Hospital lobby: this area will feature furniture that is playful, with artwork specially crafted to appeal to our youngest visitors.
Adult Hospital lobby: the Medical Center lobby creates a space for loved ones to be comfortable. This lobby will be separate from the surgery waiting area, which will be located on the third floor.
Prayer Chapel: The visual focus of Loma Linda University Health's faith-based mission will be the new chapel, designed to accommodate up to 60 people. The chapel will offer a quiet place for prayer and reflection. Additional private prayer rooms will be located close by, for moments when people need to be alone. A tranquil healing garden next to the chapel will offer a space where people can reflect with nature.
Designed to continue Loma Linda University Health's 115-year legacy of outstanding care, the future hospitals will anchor the health care needs of a vast region of Southern California, and serve as an educational and research hub to shape health care in the United States and around the world.
You can follow the rise of the towers on a daily basis by checking the construction web cams.
We're sharing photographic updates of the hospital construction work on a periodic basis. Watch for special emphasis on some of the behind-the-scenes-views and untold stories at the Vision 2020 website.
This vignette is adapted from a blog by Dennis E. Park, which appears on the website www.docuvision2020.com.