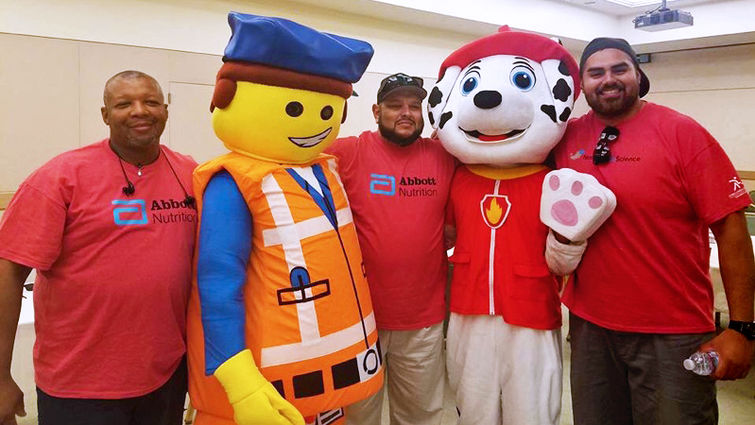 Safe and appropriate recreational opportunities can be hard to come by for kids treated for gastrointestinal needs or total parenteral nutrition (GI/TPN) at Loma Linda University Children's Hospital Specialty Team Centers.
Enter the Super Kids Carnival held for the third year for these children and their families. The event creates an outlet for fun where they can be themselves and enjoy activities tailored for their special needs. Most of the kids have feeding tubes and may be in wheelchairs, for example.
The third annual carnival took place Oct. 23 with about 120 kids and parents in attendance. Games, face painting, crafts, a photo booth, a movie and lunch — with costumed characters enhancing the carnival atmosphere — were enjoyed by all.
Additionally, the families were able to interact with the GI/TPN team doctors and staff, vendors, volunteers, and players and coaches from the Grand Terrace High School football team, who helped staff the event for the second year in a row.
"The joy these children and their families find in a place made just for them is why we hold the carnival each year," says Manoj Shah, MD, chief of pediatric gastroenterology.
Health care vendors and advocacy/nonprofit groups have taken notice of the carnival and sponsor it with financial support or their presence. Represented at the carnival this year were Nestlé Health Science, Abbott Nutrition, BioScrip, Changing Spaces California, Loma Linda University Medical Center Mountain View Pharmaceuticals, Make-A-Wish, Loma Linda University Behavioral Medicine Center MEND program, Nutricia North America, Preferred Homecare/LifeCare Solutions, Shield HealthCare and ThriveRx, a division of Diplomat.