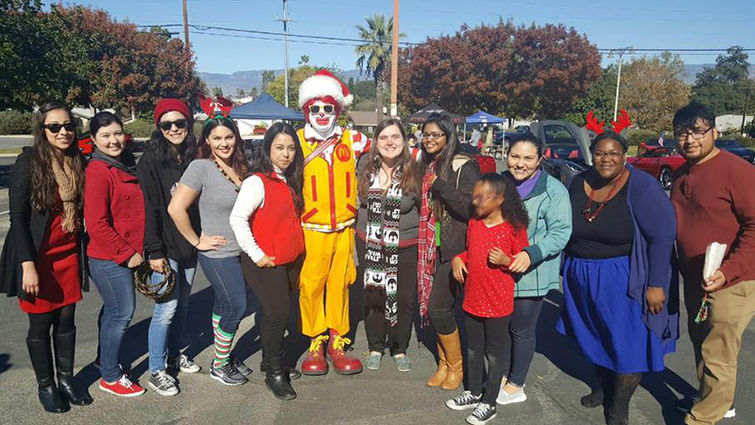 Social work is a way of life, not a career, for Loma Linda University students who study this discipline in the School of Behavioral Health. Philanthropic service plays a large part of their student life.
The national honor society for social work students — Phi Alpha — has taken notice. The society gave the Loma Linda University chapter, Iota Pi, four awards during the recent annual meeting of the Council on Social Work Education, held in November 2016 in Atlanta.
Iota Pi received the Chapter Support Award, the Chapter Service Award, the Chapter Grant and first place in the poster presentation competition. This marks the first time a school has received all four awards at one time.
Chapter President Gabby Navarro represented Loma Linda University at the meeting.
"It was a privilege to receive the awards on behalf of LLU social work students who, over the past years, have helped Phi Alpha to grow in its dedication to humanitarian work," Navarro says.
"As chair of the social work department, it was an honor to see the philanthropic outreach of our social work students recognized at a national event, particularly receiving awards in four categories," says Beverly Buckles, DSW, who is also dean of the School of Behavioral Health. "The students' contributions speak to their character and the importance of service-learning and making man whole. The honor society within our social work department has a rich history of reaching out to the community to help those in need."
Service traditions
Iota Pi does a number of service projects. This school year, the social work honor students are volunteering quarterly to prepare a meal for families staying at the Loma Linda Ronald McDonald House, and monthly they participate in an event in nearby Colton during which a coalition of agencies provides services to impoverished families.
The Iota Pi students also participate in NAMIWalks, which raises awareness and funds for the National Alliance on Mental Illness (NAMI). NAMI provides support, education and advocacy for the millions of Americans affected by mental illness. During fall quarter 2016, the students raised more than $2,000 in support of NAMI.
Most recently, Iota Pi held a coat and sweater drive, collecting 78 winter garments for Foothill Family Shelter in nearby Upland, which helps the homeless.
In addition to the service traditions of Iota Pi, the social work department as a whole demonstrates a commitment to help others. For example, the department recently held a Thanksgiving food drive, gathering 1,300 edible items for SAC Health System in San Bernardino to distribute to patients in need.
Furthermore, the department's student government leaders just concluded their annual drive for Prison Fellowship's Angel Tree program, which provides toys to children of incarcerated parents.