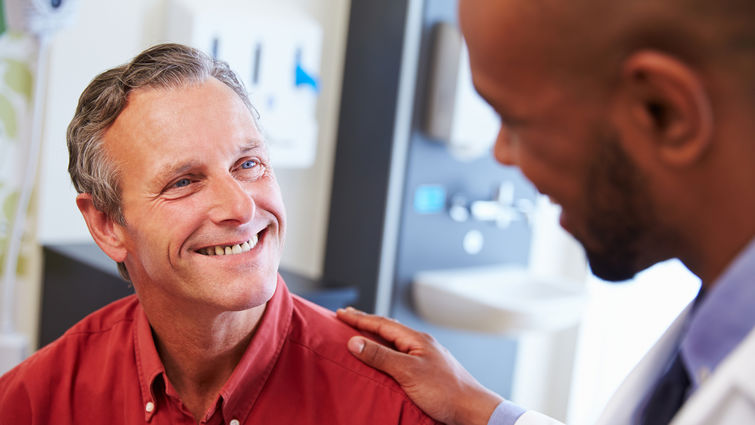 Men's health, and the societal expectations that sometimes prevent them from seeking care, framed the focus of the Men's Health Symposium, held March 2 during the One Homecoming at Loma Linda University Health. At the event, health experts discussed male health from a variety of perspectives and provided a number of things men can do to safeguard their health. Here are six of their top tips.
The only prostate numbers you need to know. Roger Hadley, MD, a urologist and dean of Loma Linda University School of Medicine, reported the latest news from the field of prostate health: "If you're in your 40s and your Prostate-Specific Antigen (PSA) score is greater than 1.0, you're at high risk of developing prostate cancer later on. But if you're in your 60s and it hasn't exceeded 1.0, forget about getting tested ever again. There is less than a 1 percent chance that you will get prostate cancer."
Man-up and talk about it. "Societal expectations sometimes pose a threat to men's health," said Mark A. Stevens, PhD, professor and psychologist at California State University Northridge. "The rules of masculinity that shape men's attitudes and behavior are 'No Sissy Stuff,' 'Be a Sturdy Oak,' 'Act like a Big Wheel.' As a result, men are less knowledgeable about their health and health care options than women, and less likely to talk about their health. His advice? "Open up, put things out on the table and talk with your doctor. It just might save your life."
Two reasons to get your T checked. A reduction in testosterone can leave a man with substandard sexual desire and a decrease in bone density. Jody Gonzalez, PharmD, assistant professor at Loma Linda University School of Pharmacy, delivered an overview about what men can do if they suspect their testosterone levels are declining. Gonzalez reported that self-diagnosis tests like the Aging Male (ADAM) Questionnaire from St. Louis University are useful, but said men should consult a urologist to discuss treatment options.
Nocturia keeping you up at night? Hadley said nocturia, the urge to wake up and urinate during the night, can be "extremely bothersome" to aging men as it "severely impacts patients' sleep, daytime functioning, risk of falls and overall quality of life." There are a variety of treatments available and Hadley encouraged men who suspect they have the condition to consult a urologist. He also offered a simple tip for men who would like to reduce the impact and frequency of nocturia: "Don't drink anything after 3:00 p.m."
Draw pictures to break barriers. With a message tailored to health providers, Stevens offered suggestions to break through the barriers that sometimes arise between physicians and male patients. His advice is for physicians to be transparent and identify the relationship with a patient like that of a financial advisor, mechanic or pastor. "Let them know you are explicitly interested in their full understanding of the why, what and how of their health care. Draw pictures if needed."
Andropause and masculinity. Gonzalez said that andropause — technically called late-onset hypogonadism, but popularly known as male menopause, manopause or viropause — "is a slow decline in testosterone due to aging. It often presents with any of the following symptoms: loss of libido; sexual dysfunction or impotence; progressive decrease in muscle mass and strength; fatigue; hot flashes; depression and other mood disorders; and poor concentration." Fortunately, there are a variety of treatment options, including testosterone injections, creams and spray, and Gonzalez encouraged men to consult their physicians for advice. "You're not alone. Seek treatment if you think you need it," she said.