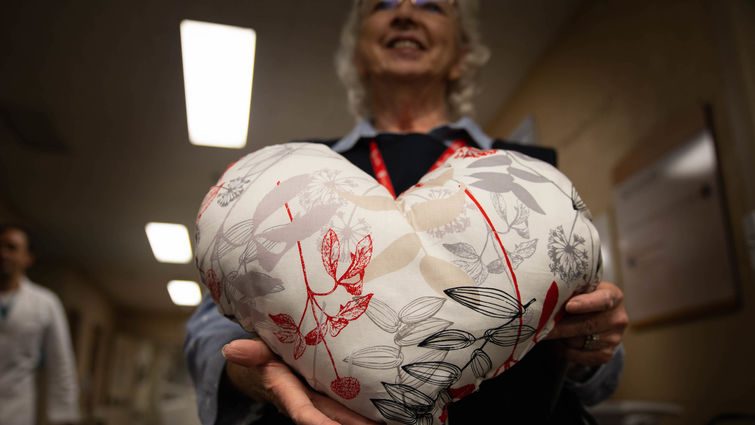 For 14 years, 71-year-old Marilyn Mitchell has been walking the halls of Loma Linda University Medical Center to give out hand-sewn heart shaped pillows to patients who have undergone heart surgery. ​
She visits patients like Brian Holliday, who is touched by the compassion and thoughtfulness of the gift.
"It is seriously a God-send," Holliday says. "Really, I am touched because this is the best gift I have received outside of the amazing doctors here at Loma Linda University Health."​\
It is a sentiment Mitchell knows all too well. Little do patients like Holliday know, but she too was once in their shoes over a decade ago. She had open heart surgery at Loma Linda University Medical Center after a heart attack on Christmas Eve in 2003. The following February, Marilyn Mitchell attended a special program for patients where she met a nurse who told her about the Mended Hearts support group program — the program that brings her to see visit patients. every day. ​
"The Loma Linda University Medical Center doctors saved my life so I had to give back," Mitchell says. "This is just my way of paying it forward."​
Mitchell is now president of the Mended Hearts, Loma Linda Chapter No. 34. Mended Hearts provides hand-made heart shaped pillows and hosts monthly support group meetings to provide education and resources for heart patients and family members who have undergone heart surgery at Loma Linda University Medical Center. The heart pillows are more than a beautiful gift, they help patients deal with pain by placing pressure on their chest when they cough or sneeze. After surgery, a patient's chest is sore from their rib cage being opened up for a heart operation. ​
With the hope of helping ease the pain of patients, a few nurses from Loma Linda University Health donated hand-sewn pillows to contribute to the mission.​
"Our volunteers help show patients that they are not alone," Mitchell says. "There are hundreds, even thousands of people going through it, and that they can get through it too."​
The Mended Hearts chapter is grateful for the contributions of others and is looking for additional volunteers. Currently, they only have enough volunteers to visit patients twice a week. The chapter is hoping to expand, so they reach all of the patients in need.​
They are also looking for volunteers to help make heart pillows. If you or someone you know would enjoy sewing into the hearts of others, get involved by contacting Volunteer Services at 909-558-8022.