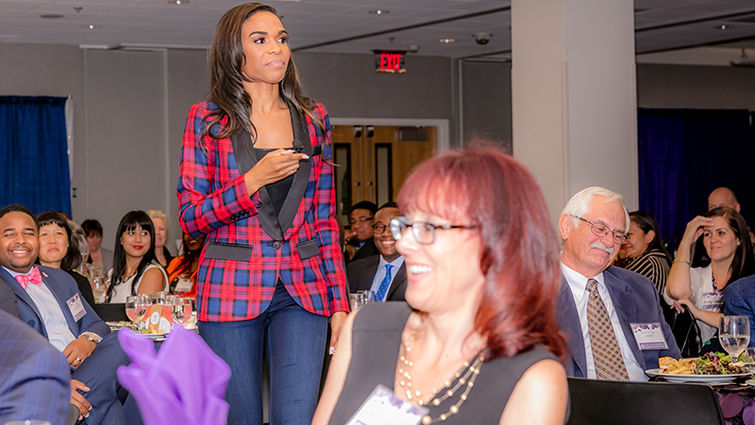 Michelle Williams, former member of Destiny's Child and a Grammy award-winning singer and songwriter, believes her faith in God combined with professional therapy were instrumental in her battle with depression, she said during her presentation at the 10th Seeds of Hope celebration, which benefits the Loma Linda University Behavioral Medicine Center.
Seeds of Hope focuses on the importance of mental health as a key factor in whole person care. Participants in the annual event seek to dispel the stigma surrounding the mental health field. Held in the Loma Linda University Health Centennial Complex on October 12, the 2017 Seeds of Hope featured success stories of two past patients and the presentation of the first Behavioral Health Champion Award.
Williams shared memories of her childhood church and faith experiences. She also recounted key moments in her career path, ultimately receiving critical acclaim as a member of Destiny's Child with Beyoncé Knowles and Kelly Rowland. Her music career continues as a solo artist, along with her interests in acting, business and design. 
"Growing up I was a sad, wounded little girl," she said. "I was bullied in school, I internalized things, I had years of practice in church learning how to show everything was okay on the outside.
In her twenties, Williams came to believe she might be depressed, but it was not until her thirties that she sought help through therapy. In 2013 she bravely went public with her mental health issues.
"It's a journey of ups and downs," Williams said. "But I'm thankful to God that I'm able to share my story. Thank you to every social worker, every clinical therapist, every physician."
Recently Williams accepted a role as an ambassador for the Office on Women's Health in the U.S. Department of Health and Human Services. She has used this platform to become a champion for mental health causes. Williams toured the Loma Linda University Children's Hospital and Behavioral Medicine Center on the afternoon of the Seeds of Hope. Her visit focused on learning how the two facilities help patients with specific behavioral issues.
"I am an advocate for mental health," she said. "I am happy to speak out and to help erase the stigma of mental illness. I hope what I share helps others suffering from mental health issues." 
The Behavioral Medicine Center has provided support to those living with mental illness for more than a quarter of a century. Edward Field, MBA, vice president for the Behavioral Medicine Center, shared statistics about the current needs for mental health support:
•    1 in 4 people will have a diagnosable mental illness in their lifetime
•    Approximately 1 in 5 men and 1 in 12 women develop alcohol dependence during their lifetime
•    There is a suicide every 15 minutes
•    Suicide is the third leading cause of death for ages 15-24
"While those statistics are staggering, the BMC continues to offer hope to those dealing with family conflict, substance use issues, depression, anxiety, stress, self-harm, out-of-control behavior and school problems," Field said. "During the past year our skilled care teams have provided for more than 26,000 days of inpatient treatment and over 38,000 visits to our outpatient programs."
Field shared that the funds raised during the previous Seeds of Hope events had provided 250 scholarships to help the BMC provide treatment to those with limited or no access to insurance.
"Your partnership is vital to us as we work to reduce stigma and provide education, recovery, and hope to our communities," Field said 
The long-term success stories of two former patients demonstrated the benefits of the whole person care approach the BMC offers. 
Jamie Rocha's treatment through the Behavioral Medicine Center's detox program included therapy with her family, which played a key role in her recovery. Overcoming an addiction to prescription pills as a result of a motor vehicle accident in her youth, Rocha has become more involved as a mother and wife. She believes the best five years of her life have happened since her treatment.
"The Behavioral Medicine Center is like a lifeboat. What happened here saved my life and my family," Rocha said. "It helped my husband and children understand and deal with my addiction, and brought us closer together.
"With the disease of addiction there's a stigma about it being something you can't control," Rocha said. "I hope that people who are new in recovery can look at me and see that recovery is possible. You can get your life back." A video of Rocha's journey can be viewed here.
Troy Mondragon has been through in- and outpatient programs at the BMC. His therapy has helped him deal with alcohol abuse, emotional problems, suicidal thoughts and depression.
"I wouldn't be alive today without the help I received at the Behavioral Medicine Center," Mondragon said.
Today he is a mental health advocate and holds a Masters in Social Work degree. Crafton Hills College named Mondragon as an outstanding alumnus of the year in 2017. He was appointed by Supervisor James Ramos to serve on the San Bernardino County Behavioral Health Commission, and plans to someday complete requirements to become a licensed Clinical Social Worker. 
"The BMC gave me a safe place and provided understanding, empowerment, accountability and hope," Mondragon said.
While many have supported the Behavioral Medicine Center's work over its 26-year history, event organizers selected this milestone tenth Seeds of Hope event to inaugurate the Behavioral Health Champion Award. RSB Harbinger Corporation has provided affordable housing to mentally ill clients who could live independently. Founded in Riverside, California, in 1987, the corporation served until 2015, when its board elected to cease operations. RSB Harbinger selected the BMC to receive a portion of its assets, making a gift of $128,000 to be used as scholarships or assistance for patients who do not have insurance to cover needed treatment for mental illness. A ten-year retrospective video of Mondragon's story can be viewed here.
"There is hope for those living with mental illness and substance use issues," said Field, the center's administrator. "The Behavioral Medicine Center's caring team offers highly structured and therapeutic programs in an atmosphere of trust and support — a 'safe place' for people can address a variety of issues.
"'Seeds of Hope' events provide us with opportunities to introduce potential supporters to the BMC's mission — planting hope in each of our patients' and families' lives," Field said. "We thank those who believe in this mission, and help us continue being a place of hope to those who need our help."