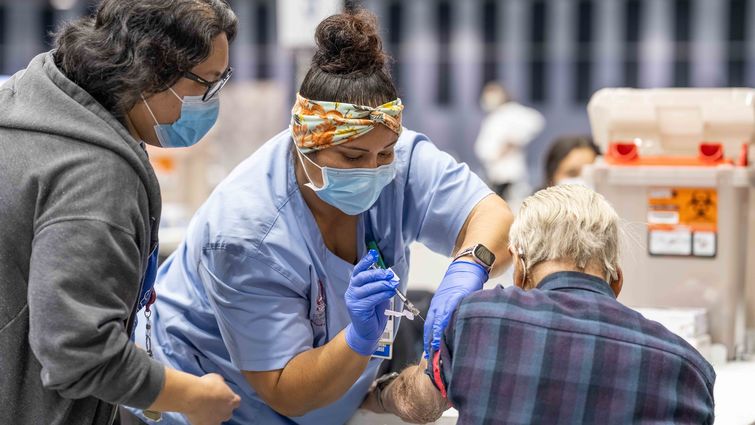 Loma Linda University School of Nursing (LLUSN) was recently awarded a grant from the American Association of Colleges of Nursing (AACN) funded by the Centers for Disease Control and Prevention (CDC) to launch a targeted campaign dispelling health information and building confidence in the COVID-19 vaccines. The initiative, titled Building COVID-19 Vaccine Confidence Among Nurses and in Communities, aims to help faculty and students at 10 nursing schools across the United States carry out important conversations about the COVID-19 vaccine to boost consumer confidence.
The work is as much for the present as for the future, says Lisa Roberts, DrPh, MSN, RN, research director and professor for LLUSN. She hopes to reach the vaccine-hesitant audience of the Inland Empire through social media, the internet, and one-on-one interactions with community-based outreach groups.
"We know that reliable information is available, but people may not be wanting to look for it, and it isn't reaching everyone," Roberts says. "This campaign will fill such a need, not only with the current situation of the COVID-19 pandemic but also for future situations."
Each of the 10 schools selected for the grant will engage with the individuals and populations at risk in their communities over the course of four months through educational and outreach activities. All schools have been encouraged to collaborate on effective strategies for reaching their target audiences.
LLUSN students will tailor vaccine information to specific communities, partnering with two art professors at California State University, San Bernardino (CSUSB) to bring the information to the community in a new and artistic way. The students' involvement will be largely through campaign-embedded educational curriculum.
"Our students are uniquely qualified to connect with people that other generations wouldn't know how to connect with," Roberts says. "This campaign will give them not only didactic but practice opportunities."
Loma Linda University School of Nursing seeks to transform lives through nursing education, professional practice, and research. Learn more about how LLUSN is touching the lives of a world in need.