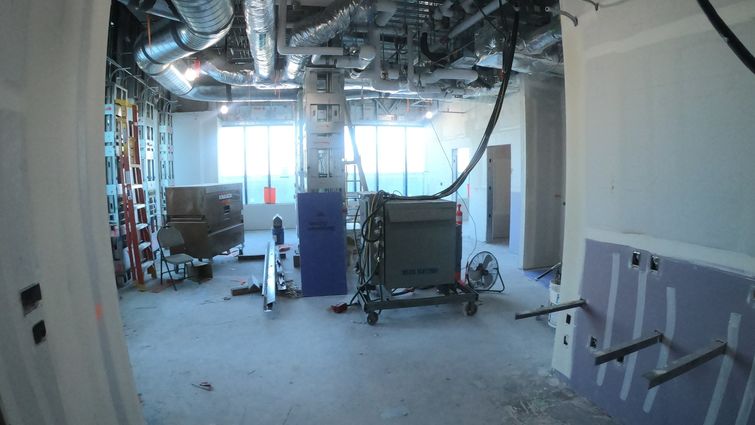 One of the busiest areas in Loma Linda University Health's new hospital facility will be on its fifth floor, the maternity/labor and delivery floor, is beginning to take its final form. Framing is now being covered by drywall, and some equipment is being put into place.
Loma Linda University Children's Hospital is the leader in high-risk birth care for the Inland Empire region and beyond. Approximately 50 percent of births taking place at Children's Hospital meet the criteria for being high-risk. More than 3,200 babies are delivered in the hospital in an average year. And when needed, the Neonatal Intensive Care Unit is ranked at Level 4 — the highest distinction possible for neonatal services.
In February 2019, the San Manuel Band of Mission Indians committed a gift of $25 million to support the construction of the maternity/labor and delivery floor. Announced during the annual Children's Hospital Foundation Gala, the gift is the second largest ever made to Loma Linda University Health. To recognize this landmark gift, the fifth floor of the new Children's Hospital will be named the San Manuel Maternity Pavilion.
"The San Manuel Band of Mission Indians and Loma Linda University Health have shared a mission to enhance the health of children in our region informed by more than a century of friendship," said Rachelle Bussell, MA, CFRE, senior vice president for advancement at Loma Linda University Health. "Their amazing gift for this pavilion reaffirms the confidence the San Manuel Tribe has in the vital work we do together to change lives."
The Pavilion will house services including a Well-Baby Nursery; Postpartum Patient Rooms; Antepartum Patient Rooms; Labor and Delivery; Exam Rooms; Cesarean Operating Rooms; and Obstetric Exam (Triage). Currently, the floor's rooms are being framed with metal studs. Electricians, plumbers and pipe fitters are also working on the floor.
The massive construction project is a part of Loma Linda University Health's Vision 2020 – The Campaign for a Whole Tomorrow. New buildings for both hospitals will meet and exceed California's upcoming seismic requirements for hospitals.
We're sharing photographic updates of the hospital construction work on a periodic basis. Watch for special emphasis on some of the behind-the-scenes-views and untold stories at the Vision 2020 website.
This vignette is adapted from a blog by Dennis E. Park, which appears on the website www.docuvision2020.com.