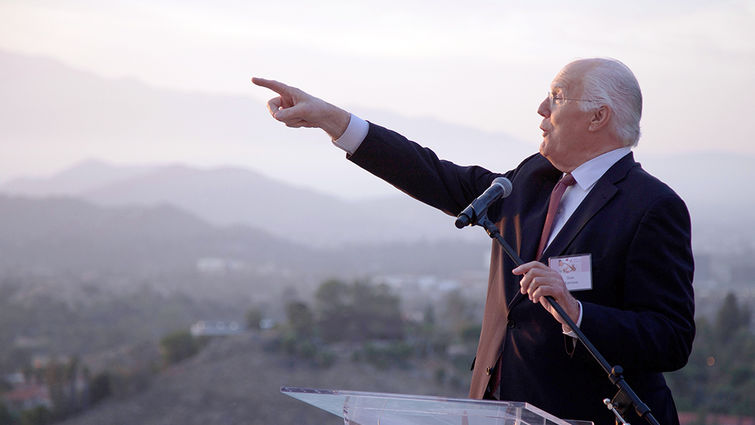 The Big Hearts for Little Hearts Loma Linda Guild raised more than $35,000 for the patients of Loma Linda University Children's Hospital (LLUCH) during the 8th annual Jazz in the Garden event, which was held Thursday, May 10, on the patio of the cliffside home of Phyllis and Walker Evans.
Once inside the house, the more than 150 guests migrated out to the patio to enjoy live music by Modern Medicine, a band of musicians who are also physicians, as well as a bountiful array of hors d'oeuvres and a gorgeous sunset.
After a welcome from Riverside Guild President Barbara Robinson — and remarks from Scott Perryman, MBA, senior vice president and administrator, Kerry Heinrich, JD, CEO of Loma Linda University Medical Center, and Helen Staples Evans, DNP, chief nursing officer at LLUCH — guest speaker Gylbert Eusebio, who was born at the hospital, thanked attendees for their support, calling LLUCH his favorite place in the world. Eusebio said he looks forward to the day when the new hospital will be ready for occupancy.
The centerpiece of the evening's fundraising efforts was a voluntary bidding war facilitated by former University of Southern California basketball coach Stan Morrison. Other funds came from ticket sales, silent auction dashboard bids and other contributions.
Robinson, the guild president, said she was pleased with the outcome of the event, which almost doubled the more than $18,000 the 7th annual Jazz in the Garden event raised last year.
"We couldn't be more pleased with the exceptional support we got from members of the Riverside community," she said. "We are grateful to everyone who helped make this the great success that it was."
The Riverside Guild was founded in 2010 to raise community awareness and funds for LLUCH. To date, it has raised more than $275,000.
For more information about the Riverside Guild, visit online here or call Josh Zahid, guild manager, at 909-558-5384.