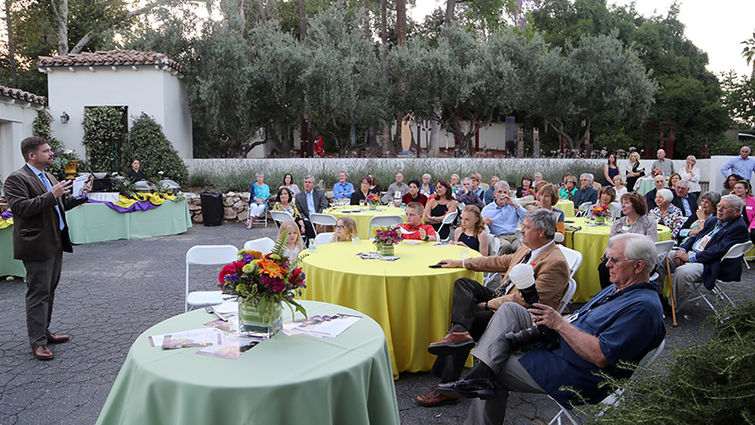 The 7th annual Jazz in the Garden event, which was held earlier this month at the Riverside home of Paulden and Joni Evans, raised more than $18,000 for Loma Linda University Children's Hospital.
"We are delighted," said Barbara Robinson, president of the Big Hearts for Little Hearts Riverside Guild. "This is the only fundraiser the Riverside Guild holds throughout the year and we couldn't be happier with the results." She added that approximately 140 people attended.
As guests arrived at the event, they were greeted by the mellow sounds of Modern Medicine, a jazz band composed of physicians who are also skilled musicians, and the visual delights of paintings and sculptures by Paulden Evans. One of his paintings, "Jazz in the Garden," a 26 ¾" x 57 1/4" x 1 ¼" oil enamel on aluminum, was auctioned to the highest bidder to raise $3,000 for Children's Hospital.
After Barbara Robinson told attendees that Loma Linda University Children's Hospital serves the needs of almost 1.2 million Inland Empire Children, she introduced guest speaker Adrian Lavery, MD, MPH, director of the neonatology fellowship training program at the hospital. Lavery shared the story of how his search for happiness went unfulfilled until a personal awakening realigned his focus from the pursuit of personal gain toward a life of service that includes, among other priorities, educating future pediatricians and neonatologists on the importance of serving others.
Guests also enjoyed dining on gourmet fare, strolling through the sculpture-laden gardens, playing bocce ball, bidding on items for sale, donating to the hospital, reconnecting with old friends and making new ones.
For more information about the Big Hearts for Little Hearts Riverside Guild, please contact Josh Zahid, Guild manager, at jnzahid@llu.edu or by phone at 909-558-5384.