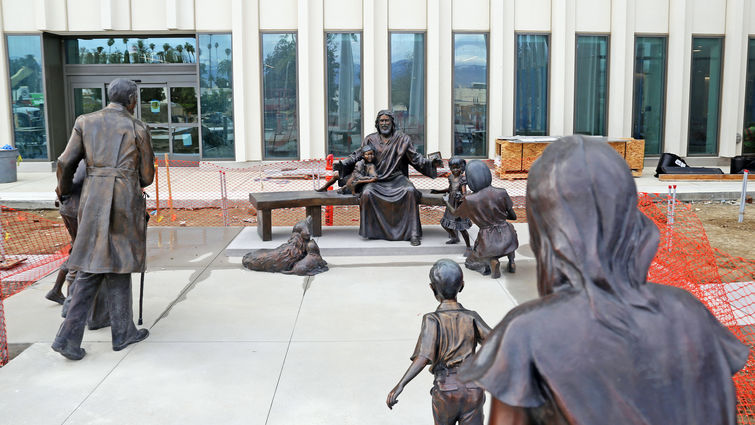 "Come Unto Me" the 10-piece sculpture grouping depicting a seated Christ inviting children and adults to come forward in welcome, has been relocated to its new location just east of the new hospital's Galleria entrance facility.
With this new highly visible location, the work will serve as a visual representation of Loma Linda University Health's commitment to continuing the teaching and healing ministry of Jesus Christ. As visitors, patients, and hospital employees approach the main entrance, the work will remind viewers that they have come to a place where healing takes place on physical, mental, and spiritual levels.
The work's inspiration comes from Christ's invitation recorded in Matthew 11:28-29 — "Come Unto Me, all you who are weary and burdened, and I will give you rest. Take my yoke upon you and learn from me, for I am gentle and humble in heart, and you will find rest for your souls." Artist Victor Issa, of Loveland, Colorado, says he found transformation in his own life as he worked to convey the joy of this message of hope through the work of art.
Installed on campus in January 2009, the work depicts physicians, nurses, and patients of all ages. Visitors will be able to view the work from a variety of perspectives outside, as well as from inside the Galleria and from the corridor near the cafeteria and dining room.
Construction of the future Loma Linda University Health Adult Hospital and Children's Hospital tower has been supported in part by Vision 2020 – The Campaign for a Whole Tomorrow. The new facility will begin its mission of healing later in 2021.
These photos have been supplied courtesy of Dennis E. Park, who has been documenting the construction effort at his blog found at www.docuvision2020.com.