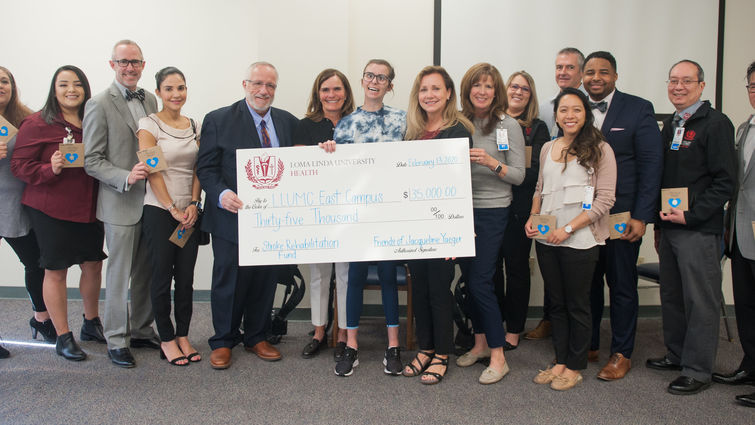 Andrea Yaeger has honored 16 Loma Linda University Health employees who helped her daughter Jackie receive ongoing rehabilitative care. Her gift of $35,000, raised from family and friends, has provided upgraded software to therapy equipment and will also support patient scholarship.
Jackie, a young attorney at a prominent Riverside, California, law firm, suffered a brain hemorrhage before coming to Loma Linda University Health. She had first felt sudden, severe pain in her jaw and visited an oral surgeon, but wasn't able to find relief. A neurologist ordered an MRI, which revealed that Jackie had an arteriovenous malformation in her brain. The condition involves a tangle of abnormal blood vessels that disrupt the normal brain blood flow. Unfortunately she later suffered an aneurism and ultimately a life-altering hemorrhage.
Andrea knew that Loma Linda University Health was the right place for Jackie when they met Lisa McMillan, DPT, a physical therapist on Jackie's rehab team.
"When I found out that Jackie was going to be my patient, I read all I could about her case and background," McMillan told her. "I have been praying for you before I met you."
As Jackie's therapy progressed, her doctor suggested she would be a good candidate for exsoskeleton therapy, a wearable robotic device that helps patients relearn how to walk.
"This machine is training Jackie's brain to rewire her walking skills," Andrea said. And while Jackie was showing improvement, Lisa Zidek, MPT, Jackie's robotic physical therapist, mentioned to Andrea that so much more could be accomplished if the department could acquire an important software upgrade.
"I can help with that," Andrea replied. An email to family and friends brought in $24,000, allowing the robotic unit Jackie was using in the outpatient clinic and an identical unit in the inpatient clinic to receive new software.
Zidek says the new software operates the machine's robotic movements more smoothly, adds a touch screen control device, and adds a number of real-time data reports, testing programs, and safety features previously unavailable.
"These upgrades will benefit so many individuals," Zidek said.
"People kept giving, and we have $35,000 now," Andrea said. "The software company gave a $4,000 discount because both units were upgraded, so we have $15,000 for other uses."  David Dai, executive director of Loma Linda University Health – East Campus, has designated those extra funds to be used as scholarships for future patients who would benefit from robotic therapy but may not be able to afford the sessions.
Jackie continues to improve. She has a long way to go, but she also is strongly motivated to push herself in her therapy, Andrea said. "Jackie's goal is to walk. She is engaged and her fiancé is a lawyer in Los Angeles. She wants to wait until she can walk down the aisle to be married."
Andrea decided to have the $35,000 directed through the Healing Hands program. At a recent celebration luncheon honoring Jackie's progress, Andrea was able to announce the names of 16 Healing Hands honorees who made significant contributions to Jackie's healing:
Kent Hansen, LLU Health attorney                                    

Trevor Wright, LLU Medical Center COO

Sami Wright, Trevor Wright's wife, and a significant source of emotional support

Jonathan Jean-Marie, East Campus administrator

David Dai, East Campus executive director

David Tan, clinical manager of outpatient rehab

Lisa Alfred, speech pathologist

Lisa McMillan,

physical therapist

Katie Lee, occupational therapist

Alicia Lozano, East Campus office manager

Arlene Maldonado, Rehab Institute scheduler

Marina Vega, Rehab Institute scheduler

Sarah Meredith, occupational therapist

Dr. Christopher Tarver, physician

Lisa Zidek, physical therapist

Greg Margart, speech pathologist
"I can't say enough about this place," Andrea said. "We are VERY thankful to be here. I don't know if the community realizes what a special place it is. When you watch Jackie in therapy with all the other people, you see there's a big need. The therapy center could be twice as big and still be jam-packed."
Most of all, Andrea says the atmosphere in the rehabilitation clinics is one full of hope.
"Jackie is not giving up," Andrea said. "It's so hopeful here. Jackie is used to working hard, and this process is giving her the hope she needs."