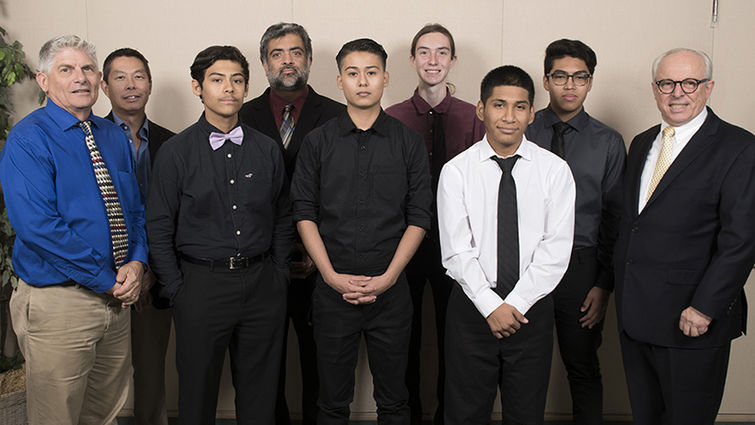 This story is one in a series on service-learning and the way students at Loma Linda University are learning with their community.
At Loma Linda University, learning doesn't only happen on campus. In dozens of service-learning courses in the university's eight schools, students are learning with their community.
In one such course, students from the School of Allied Health have teamed up with students from Indian Springs High School Manufacturing and Development Academy (ISHS).
Their goal? To 3D manufacture a forearm-hand unit that will be showcased at both ISHS and the LLU entry-level Master of Science in Orthotics and Prosthetics (el-MSOP) Capstone this autumn. 
The students from both schools are working together on a weekly basis to design and assemble a durable, functioning, 3D-printed hand. Gurinder Bains, PhD, assistant professor, School of Allied Health Professions (SAHP), oversees the project with Johannes Schaepper, MDiv, CPO, chair, orthotics and prosthetics, SAHP and Ron Del Monte, CTE, of Indian Springs High School.
Manufacturing to meet the need
The process begins with an amputee being fitted with a cast for a forearm-hand unit at Loma Linda University. A file is then created that is sent to ISHS for 3D interface printing.
Once the artificial limb is completed, the person who was fitted for the prosthesis will be present during a general student forum of ISHS students. 
As they meet the individual and ask questions, the entire student body will learn about prosthetics while also understanding what the manufacturing academy's work means in the life of a real person.
An archive of this meaningful experience will be kept in the Orthotics and Prosthetics Department, enabling future students to build on this community-engaged, service-learning project.
Mario Cendejas Mondragon, a manufacturing academy student, is grateful. "This experience set itself apart from anything I had done before as it offered a real-world application to what I'm working on and learning in my school's manufacturing academy. This real-world application helped me see what is possible in the world of orthotics and prosthesis but most importantly how it can ultimately help people in need," he said.
Community impact
At Loma Linda University, collaborating with community partners is at the heart of what it means to show reciprocity — with both students and partners benefiting from the collaboration. As partners team up and work together on a project during service-learning activities, meaningful and lasting impressions are created and a two-way learning experience occurs.
"Service-learning compels students to address the question 'what impact is LLU having on the surrounding community through a shared service-learning activity,'" says Brenda Spoelstra from the LLU Institute for Community Partnerships. "In fact, the community partner's collaboration often determines the success and sustainability of the program or project Loma Linda University is engaged in."
The collaboration between ISHS and the School of Allied Health Professions is an example of reciprocity. "As they work together to seek solutions," Bains and Schaepper stated, "the students are learning outsourcing, leadership skills and promoting knowledge transfer from clinical to manufacturing and vice versa."
"The interaction of students from both schools brings together their experience, knowledge, creativity, functionality and design techniques," Spoelstra said. 
This can result in ISHS students possibly pursuing a career in the health care field and more specifically a career in the field of OP, while continuing to give back to the community through service-learning.
In 2016, Bains joined the collaboration and facilitated LLUH & ISHS to become a chapter in the worldwide e-NABLE Community Foundation of 3D, printing hands for persons with amputations. In addition, the newly formed e-NABLE chapter aims to improve options for those with upper extremity limb loss, especially in areas with high unmet needs such as in San Bernardino County. 
The chapter is named "LLU-ISHS Community Service Learning" and both ISHS and LLU students will be recognized with a service-learning award for their project at the LLUH OP Capstone presentation on November 3.