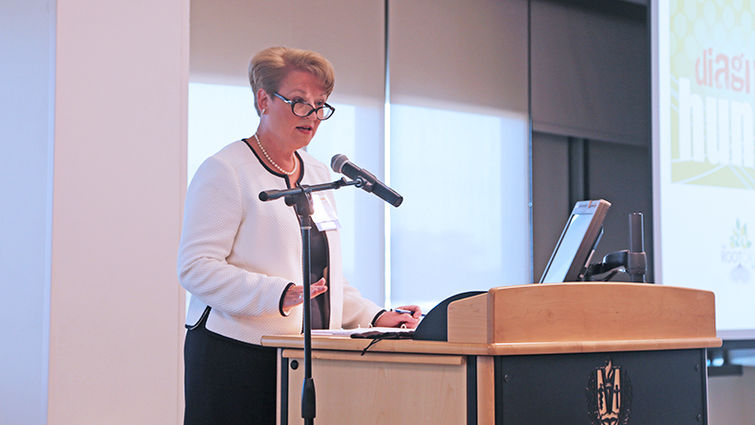 A common proverb states that it's better to teach someone to fish (a long-term solution) rather than give him or her fish (short-term solution).
Barbara Petee, speaking at the Diagnosis: Hunger summit Sept. 14 at Loma Linda University Health, argued that we need to make sure there is a pond in every community in order for this proverb to have any worth. She is executive director of The Root Cause Coalition.
The coalition co-sponsored the Diagnosis: Hunger summit with The Alliance to End Hunger. Loma Linda University Health hosted the summit at Centennial Complex.
Hunger, Petee said, is strongly tied to negative physical and mental health outcomes. "We simply cannot turn away, and in fact we need to look more closely," she argued.
"[Hunger] affects anyone at any age."
The theme of the summit was "Addressing Hunger as a Health Issue." This placed emphasis on the role of health care providers in ensuring patients have enough nourishing food to eat.
Randy Oostra, DM, spoke about how ProMedica, the nonprofit health care organization of which he is president and CEO, is taking on this challenge. He is also chair of The Root Cause Coalition.
More than 14 percent of American households are food insecure, Oostra informed the audience of approximately 120. The negative impacts of hunger cost the nation about $167.5 billion annually.
ProMedica's steps taken have included building questions about food security into all patient interviews, connecting patients in food need with resources, starting a food pharmacy, and launching a grocery store in an inner city area that lacks other sources of healthy foods.
Oostra argued that health care organizations need to tackle social determinants of health, such as hunger, with the same passion as they do for acute physical needs.
Other speakers of the day included Lisa Marsh Ryerson, president of the AARP Foundation; Rebecca Middleton, executive director of The Alliance to End Hunger; and Audrey Rowe, an administrator for the Food and Nutrition Service for the United States Department of Agriculture.
Wonha Kim, MD, MPH, associate director of Loma Linda University Institute for Health Policy and Leadership, addressed the effects of hunger on physical, mental and social health for children, from in utero through adulthood.
Aldo Ramirez and Ginger Ontiveros of San Bernardino City Unified School District highlighted the importance of strategic programs and partnerships with entities such as Loma Linda University Health and its new San Manuel Gateway College in battling hunger. Over 90 percent of students in the district live in poverty. 
The day ended with a discussion led by Petee about how to share best practices and move forward in making sure the call to address hunger as a health issue is answered.
Participants were also invited to continue the discussion online on Facebook and Twitter via hashtag #DiagnosisHunger.
The Institute for Health Policy and Leadership at Loma Linda University Health hosted the summit.
"The conference was a remarkable opportunity to bring nationally prominent leaders to our campus for a strategic discussion of hunger as a critical issue for health systems. The historic, faith-inspired mission of Loma Linda University Health makes this a subject of great significance," says Gerald Winslow, PhD, director of the Institute for Health Policy and Leadership.