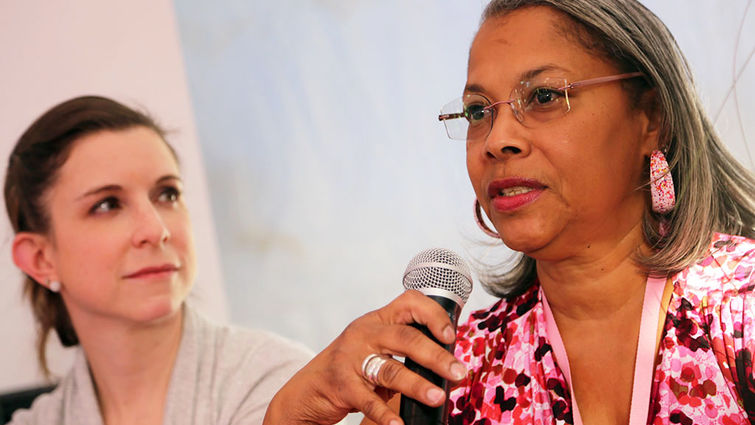 One of the biggest takeaways from the 8th annual Pink Runway event on Wednesday, October 19, at the Riverside offices of the Loma Linda University Medical Center department of plastic surgery, was that drinking three cups of green tea per day can reduce the risk of developing breast cancer by 50 percent.
The event highlighted the fact that one in every eight women will develop breast cancer during her lifetime, that men also get it, and that people with no family history of breast cancer can still develop the disease.
Subhas Gupta, MD, CM, PhD, chair and professor in the department of plastic surgery, said that in addition to green tea, other practices promote breast health:
Decreasing saturated fats can reduce breast cancer risk by almost 20 percent
Breast-feeding for at least 12 months can reduce breast cancer risk by 28 percent
Maintaining a Vitamin D level of 40 nanograms per milliliter can reduce breast cancer risk by 30 percent
Exercising moderately to vigorously five times per week for more than 16 weeks has been shown to reduce breast cancer risk
Consuming more than 100 mgs per day of Omega 3 fatty acids—found in walnuts, flax seed, and fish—can reduce the risk of postmenopausal breast cancer and contribute to increased longevity
Eating colorful vegetables, especially those with carotenoids, unleashes very powerful antioxidants that kill precursor cancer cells.
On the negative side, Gupta noted that smokers have a 24 percent higher risk of contracting breast cancer than nonsmokers.
The event featured a MythBusters-style panel discussion in which patients joined physicians in taking questions about issues related to breast reconstruction. Key myths dispelled included:
Women who have had a full mastectomy cannot have breast reconstruction
Women can only get artificial breast implants if they have had breast reconstruction
Women must wait several months after a mastectomy in order to have breast reconstruction
Women who have had chemotherapy or radioation cannot have breast reconstruction
Beyond a certain age, women are too old to have breast reconstruction.
Each myth was thoroughly debunked as panel members explained the truth about the reconstructive process.
At the end of the evening, five patients celebrated life after surgery with a short stroll down the Pink Runway catwalk.
Harriette Parker, who has now survived 29 years after her initial diagnosis of breast cancer, encouraged women to perform monthly self-exams, to see their doctor every year, and to not allow the disease to define them.
Alison Frable had two radical mastectomies when she didn't even have breast cancer.
"In August 2010, I decided to visit a genetics counselor to discuss BRCA testing," Frable said of the breast cancer gene test. "My gynecologist made the suggestion after hearing that my sister had been diagnosed with breast cancer at the young age of 34."
Frable, who was then 39, agreed. "Two weeks later, I was shocked to discover that I had actually tested positive," she reported. "I found it extremely difficult to accept."
After experiencing anger, shock, and fear, Frable's mood turned to depression. "I didn't want to have surgery to remove my breasts, but I didn't want to live in fear of cancer either," she reasoned. "It's a very personal and difficult choice to make."
Courageously, Frable chose to undergo a double mastectomy.
"That was the beginning of my healing journey," she said. "I was literally in good surgical hands with both the breast surgeon and plastic surgeon, carefully working together to ensure I would look and feel my best when my reconstruction process was complete."
Today, Frable is full of life, happy, healthy, and at peace with her choice. "Six years ago, I would've never believed I'd feel this confident and content," she said.
"For those of you beginning your own journey," she concluded, "believe that you're the same person you were before you knew; that we're all in this together; that you're not a statistic with numbers set in stone; and most importantly, that you're never alone."
___________________________
For more information on breast health, consult your physician or go online at http://www.breastreconusa.org