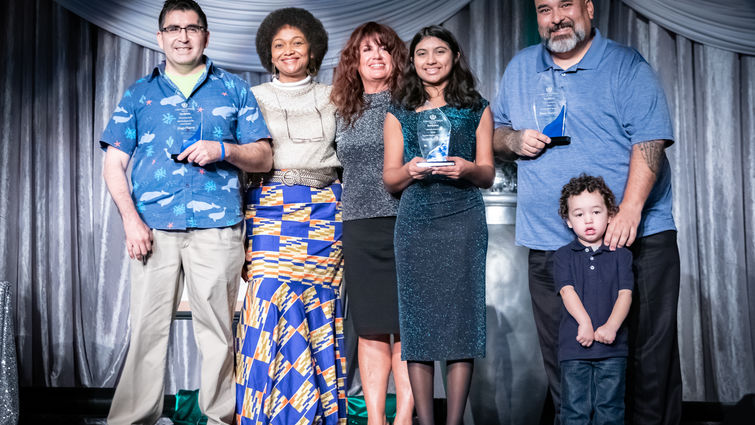 Para-athletes, members of the PossAbilities family, loved ones and friends gathered together to celebrate one another and an incredible year at the 16th annual PossAbilities Celebration dinner held on Sunday, December 8. 
The event included special entertainment from PossAbilities members, including piano performances, singing and a comedy act. In addition to the entertainment, over $67,000 in grants and scholarships were awarded to 18 PossAbilities members.
As is tradition, three key awards are presented during the celebration dinner to specific members demonstrating their dedication and perseverance throughout the year. The PossAbilities member of the year was awarded to James Ramirez, and the Support Member of the Year was awarded to Sachi Pawooskar. The awards were rounded out by the induction of Hugo Huerta to the PossAbilities Hall of Heroes.
Cotie Williams, director of community development and outreach at Loma Linda University Health, says the annual dinner is an opportunity for PossAbilties members and their families to celebrate the many accomplishments that were overcome throughout the year. 
"The celebration dinner is a wonderful opportunity to celebrate our members and to acknowledge how they make an impact on fellow friends with disabilities — it's remarkable to witness how the encouragement from one member to another can be life-changing," Williams said. "I am so honored to recognize these amazing people for their dedication, heart, and ability to share their journey and change the lives of those they encounter. 
PossAbilities is a free community program of Loma Linda University Health that offers disabled and challenged individuals a sense of community and a healthy social network. ​
For more information about PossAbilities, call 909-558-6384, email possabilities@llu.edu, or visit its website.  ​
Check out the photos below to see more from the 16th annual PossAbilities Celebration dinner.