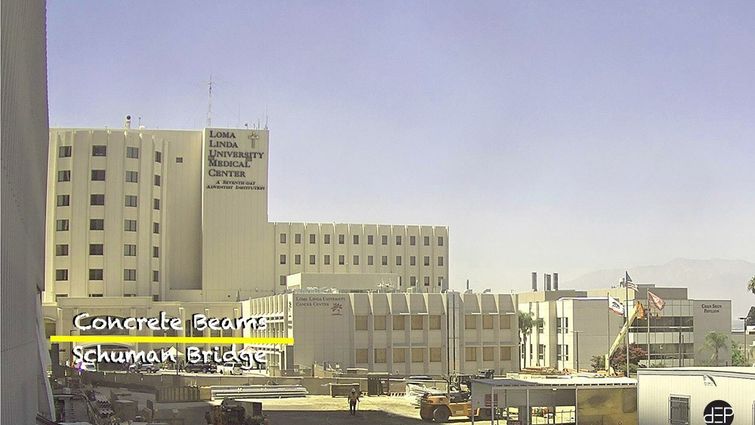 A new pedestrian bridge linking the future hospital and the existing Schuman Pavilion will be constructed during September and October. The project will also include an expansion of Schuman Paviliion.
A crew of 30 steelworkers will be erecting the structural steel and installing the metal decking for both the bridge and the Schuman addition. Much of the work will take place immediately adjacent to the existing Schuman Pavilion exterior wall, so windows on the Pavilion's east side will be covered with wood.
A small crane will be brought onto the site for the project to move loads of steel across the Medical Center entrance drive. The two month project will affect both pedestrian and vehicle traffic in the area near the current hospital's main entrance area. Visitors to that part of the Medical Center complex should expect delays.
The project is a part of Loma Linda University Health's Vision 2020 – The Campaign for a Whole Tomorrow. New buildings for adults and children will meet and exceed California's upcoming seismic requirements for hospitals.
We're sharing photographic updates of the hospital construction work on a periodic basis. Watch for special emphasis on some of the behind-the-scenes-views and untold stories at the Vision 2020 website.
This vignette is adapted from a blog by Dennis E. Park, which appears on the website www.docuvision2020.com.