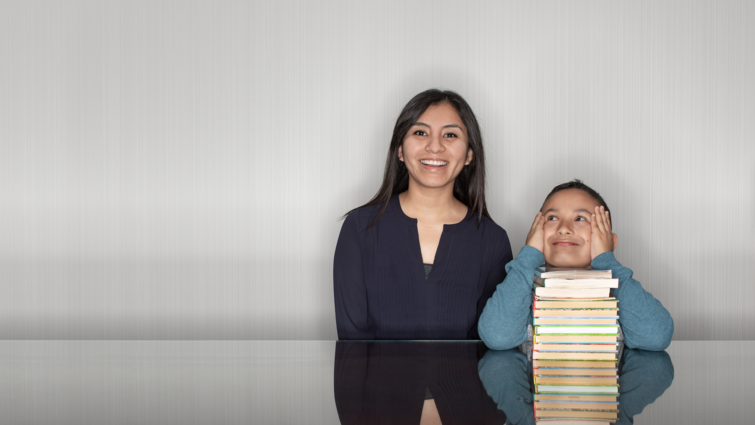 This article originally appeared in Scope magazine.
As a nursing student, Laura Naranjo wanted to serve the community while in the midst of her studies. 
"If we're in school because we want to make a difference, we don't have to wait until we're done with our education," she says. 
So Naranjo tutored kids as part of the La Escuelita (The Little School) program, helping children with their homework and practicing math and reading skills.  
Her volunteer service helped Naranjo understand the bigger connection of nursing within the hospital walls and outreaching in the community — coalescing to show her the importance of the public health aspect of medicine.
Volunteers often speak of the perspective gained through their service. But the decision to serve also has to do with perspective. For Naranjo, the greatest challenge in volunteering was finding the time to do it.
She had to decide which would make a more lasting impact in life — acing her tests and not volunteering, versus doing good enough on her tests and making a child's life better. 
Volunteers such as herself prioritize what Naranjo describes as "the grand perspective."
Now, almost three years after graduation, Naranjo works as a nurse at Loma Linda University Medical Center. Looking back, she says volunteering enhanced her school experience and her sense of purpose. 
"I felt that my life was balanced," she said. She continues to volunteer post-graduation in community events, believing in the importance of "service outside my paycheck."
Whether via tutoring, teaching a musical instrument, or telling about Christ's love, Loma Linda University students have abundant choices if they wish to volunteer to help children who live in the neighboring city of San Bernardino. 
"There is no one way to serve" is the philosophy behind the variety of volunteer opportunities set up through the university's Community-Academic Partners in Service (CAPS) program, part of Loma Linda University Health's Institute for Community Partnerships.
The choices also allow students to find a volunteer outlet that matches their varying schedules, with both weekday and weekend programs, as well as once quarterly and seasonal.
The mission of CAPS is "To connect Loma Linda University students', staff's and faculty's passion for service and academics in partnership with the local community in mutually beneficial and sustainable ways."
This mission manifests in the variety of volunteer programs it coordinates in the local region. In addition to La Escuelita — and the La Escuelita Family Resource Center, serving adults — the programs and events include:
•          Goal 4 Health — a community soccer league to promote health
•          Community Kids Connection — tutoring & musical instruction 
•          Special Ops — mentoring at-risk children and teens
•          Kids ROCK! — Saturday afternoon spiritual programming
•          TIGERS Water Safety — teaching basic swimming skills and how to identify water dangers
•          Project Hope — equipping expectant teens with knowledge and skills for parenting
•          Street Medicine — providing basic medical care on the streets of San Bernardino
•          My Campus — speed-mentoring for high school students and introduction to various academic programs
•          Robotic Surgery Simulation — demonstration event for high school students interested in a health profession
•          Summer Gateway Program — a three-week experience for underrepresented minority high-school students interested in pursuing a healthcare profession
"It's not just about what students can do for the local community," says Pablo Ariza, director of the CAPS office. "It is about what service can do in the lives of the students who are serving. Getting to know people from different life circumstances disarms us of misconceptions and fears, thus collapsing the barriers we create between us."