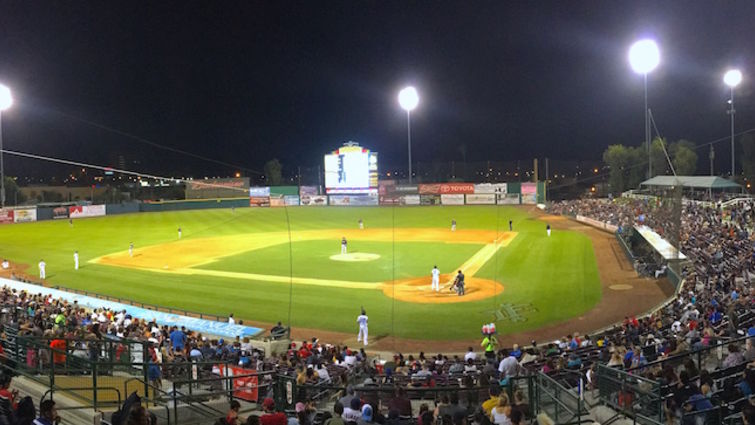 The Inland Empire 66ers failed to bring home a victory against the Lake Elsinore Storm, but it was a win for the fans who cheered them on. Over 3,000 people attended the game on July 18, which was All Star Appreciation night for staff, volunteers and students of Loma Linda University Health.
Members of the Loma Linda family were treated to up to six tickets to share with family and friends to enjoy the summer baseball game.
"We care about and appreciate those individuals who work so hard for us and their education," said Kerry Heinrich, JD, CEO, Loma Linda University Medical Center. "There needs to be a balance in everyone's life, and this is one way we hope our Loma Linda family can achieve that as part of living a whole life."
The game kicked off with a first pitch thrown by Children's Hospital chief nursing officer Helen Staples-Evans, DNP, MS, RN, the first female to throw the first pitch in the 15-year history of All Star Appreciation.
Recent Loma Linda Academy graduate Corinne Atita, 18, sang the national anthem.
As guests entered the stadium, they were greeted with a gift bag and were given the chance to win one of 15 prizes in an opportunity drawing. Two names were drawn each inning through the seventh, and the winner of the grand prize was drawn at the bottom of the seventh.
The big winner of the night was employee Maria Franco, who took home a Hawaii vacation package. Other items given out in the drawings included Universal Studios season passes, a DSLR camera, a kayak, a 10-person tent and a 55-inch flat screen TV.
During the third inning, Steve Wendt of 66ers radio online interviewed Scott Perryman, senior vice president and administrator of Children's Hospital.
"Our employees are a special group of people who dedicate their lives to children," Perryman, MBA, said of his staff. A longstanding baseball fan, Perryman enjoyed the opportunity to share an evening in the stands with his Loma Linda colleagues.
The Loma Linda University Health marketing department organizes the employee appreciation event every year.