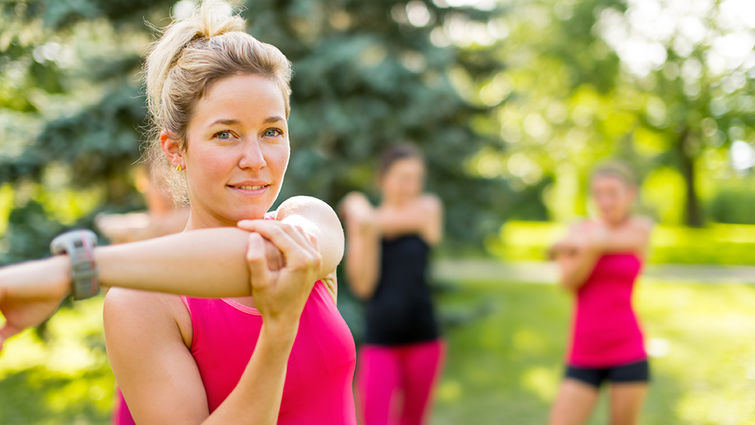 Osteoporosis is a systemic bone disease that 1 in 5 women over 50 years old will develop. While its progression is painless, osteoporosis may result in bone fractures, changes in a person's height, abdominal pain and difficulty breathing.
Endocrinology specialist Silvana Giannelli, MD, says osteoporosis is characterized by compromised bone strength that predisposes to broken bones. Bone fractures tend to occur in this order: wrist, spine and then hip, she says.
While more women in the United States will experience hip fractures than those who experience a heart attack, stroke or breast cancer combined, it is possible to fight back.
Giannelli, an associate professor at the School of Medicine at Loma Linda University, delivered a presentation earlier this month on osteoporosis at the Loma Linda University Health Women's Conference at the Riverside Convention Center. Here are six of her top recommendations:
Enjoy a healthy diet. Because low body weight is a risk factor for osteoporosis, it is important to maintain a healthy weight. A bonus tip: while it is important to eat a diet rich in calcium and vitamin D, "Beware taking too much calcium as it can cause kidney stones," Giannelli said.
Exercise. Movement and weight-bearing activity helps a person's bones grow stronger. To increase bone strength, participate in gentle weight-bearing and muscle-strengthening exercise such as walking, dancing or lifting light weights several times a week.
Know your risk factors. Osteoporosis risk factors include age, low body weight, previous fractures, and the use of cigarettes and alcohol. Some medications prescribed for common health issues, such as steroids can also lead to osteoporosis.
Get checked. A bone mineral density test is used to diagnose one's bone health; it measures bone density at the hip and spine and can also be used to see if ongoing treatment is making the bones stronger. Dual X-ray Absorptiometry (DXA) equipment is used during the diagnosis. Due to variations in DXA units, Giannelli urges participants to have follow-up scans taken by the same unit and if possible, performed by the same technician. A bonus tip: portable units called bone densitometers are used to measure the bone mineral density in a person's heel. While they are often used at health fairs, Giannelli said that the results they measure cannot be used to diagnose osteoporosis.
Take steps to prevent fractures. Many fractures are caused when a person with osteoporosis slips, trips and falls. Removing clutter and throw rugs from the home will help prevent falls and will in turn help prevent fractures, which cause as many as 65,000 deaths in the United States each year.
Learn about medications from your doctor. Candidates for prescription medications include patients with osteoporosis, those who have experienced a fragility fracture and those with osteopenia (reduced bone mass less severe than osteoporosis) who also have an unacceptable high risk of fracture. FDA-approved medications for osteoporosis include Selective Estrogen Receptor Modulators (SERMS), bisphosphonates, Prolia, Forteo, calcitonin and hormone replacement therapy (HRT).
Though osteoporosis is common and progresses silently, learning about what causes it, available treatments, and how to prevent broken bones will help save lives.