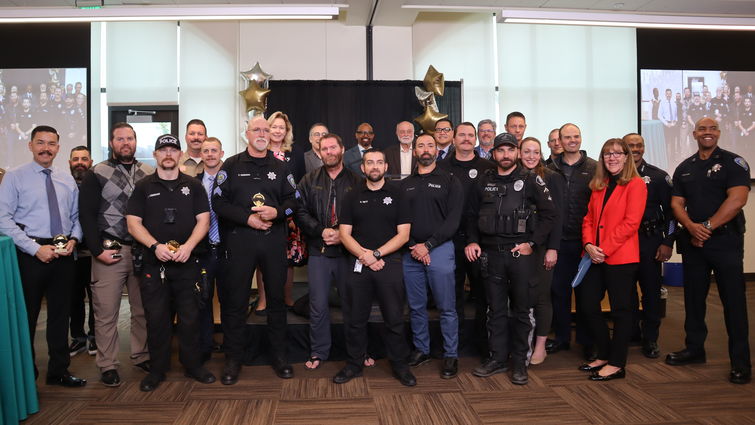 Law enforcement departments from the region teamed up with Loma Linda University Health leadership and its Security Department as well as community members to raise over $12,000 for Loma Linda University Cancer Center. The fundraiser was the 8th annual No-Shave November event, a month-long initiative to promote cancer awareness, prevention, and early detection.
Six law enforcement agencies — San Bernardino Police Department, Chino Police Department, Redlands Police Department, San Bernardino County District Attorney's Office, San Bernardino County Sheriff's Department, and Upland Police Department — all pitched in during the month of November to raise the combined funds.
Richard H. Hart, MD, DrPH, president of Loma Linda University Health, thanked regional law enforcement during yesterday's closing ceremony, held at the SACHS Clinic. "We want to thank and recognize our law enforcement personnel for their tireless work serving our community and for their support of cancer services and research at Loma Linda University Health."
Mark Reeves, MD, PhD, director of LLU Cancer Center, shared ways in which No-Shave November funds will help bolster the Cancer Center's initiatives in patient care, translational research, and clinical innovation.
For a month preceding the event, members from the law enforcement agencies and Loma Linda University Health competed to grow out facial hair in hopes of earning a top title in seven categories: hairiest legs, best eyebrows, best head of hair, best beard attempt, best mustache, best beard, and whitest beard. Reeves and Darren Goodman, Chief of the San Bernardino Police Department, announced winners during the fundraiser's award ceremony.
After the program, a barbershop offered free straight-cut shaves on-site to those who had participated in the month-long awareness.
In closing remarks, Judy Chatigny, RN, MSN, assistant vice president of the Cancer Center, said that No-Shave November participants over the past eight years have raised a grand total of more than $100,000.
"The efforts and support you have all brought forward are sowing the seeds of breakthrough therapies and treatments for our community," she said.