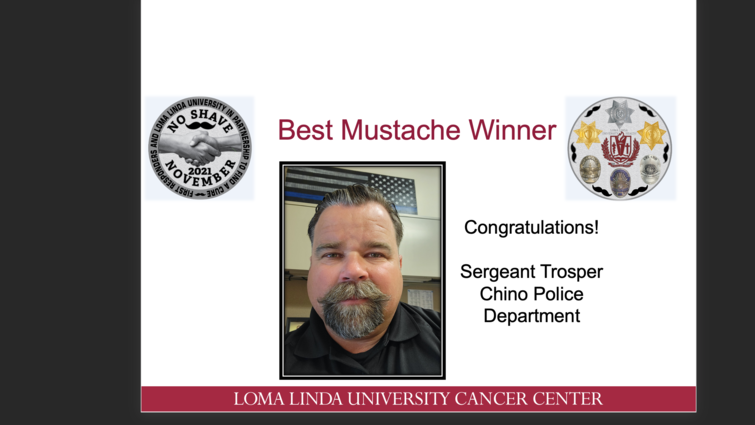 Law enforcement departments from the region teamed up with Loma Linda University Health leadership and Security Department as well as community members to raise over $18,000 for LLU Cancer Center. The fundraiser was the 7th annual No-Shave November initiative.
Seven law enforcement agencies — San Bernardino Police Department, Chino Police Department, Fontana Police Department, Redlands Police Department, San Bernardino County District Attorney's Office, San Bernardino County Sheriff's Department, and Upland Police Department — all pitched in during the month of November to raise $18,476.
Richard H. Hart, MD, DrPH, president of Loma Linda University Health, shared during today's virtual closing ceremony how funds will help bolster the Cancer Center's strategic aims: providing complex care, expanding knowledge through translational research and clinical innovation, and training the next generation of clinicians and researchers.
"What a privilege it is that Loma Linda University Health has to partner in such a meaningful way with law enforcement," he said. "Research is where the future of cancer care resides, and it is efforts such as this that raise awareness, raise support, and raise hope, which will carry us there."
For a month preceding the event, members from the law enforcement agencies and Loma Linda University Health competed to grow out facial hair in hopes of earning a top title in eight categories: best mustache, best beard, whitest beard, best eyebrows, best head of hair, best beard attempt, hairiest legs, and overall furriest. Trevor Wright, interim CEO of Loma Linda University Health hospitals, and Peter Baker, senior vice president and administrator for LLU Children's Hospital, announced winners during the fundraiser's virtually hosted award ceremony.
Cancer Center director Mark E. Reeves, PhD spoke of recent decades' worth of progress in cancer research and how efforts like No-Shave November support its ongoing growth at the Cancer Center. No-Shave November participants over the past seven years have fundraised a grand total of over $90,000.