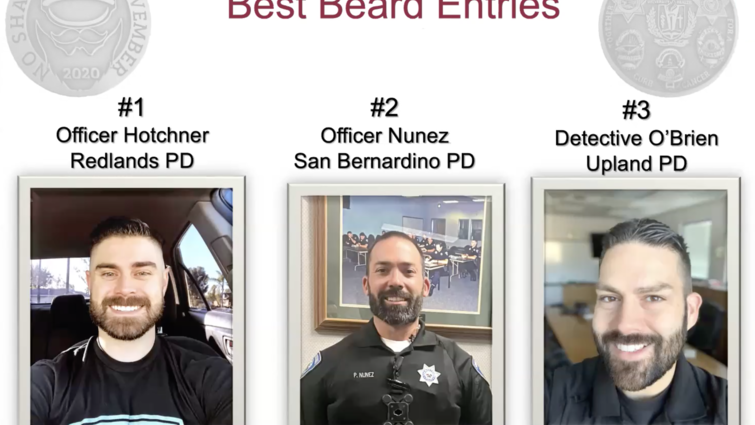 The unprecedented pandemic circumstances under which this year's No Shave November initiative occurred were matched by unparalleled fundraising amounts, with law enforcement departments from the region raising nearly $25,000 for Loma Linda University Cancer Center. The 2020 No Shave November initiative also drew participation from the highest number of agencies since the event's genesis six years ago.
Eight agencies — the San Bernardino Police Department, CHP – Inland Division, Chino Police Department, Fontana Police Department, Redlands Police Department, San Bernardino County District Attorney's Office, San Bernardino County Sheriff's Department and Upland Police Department — all pitched in during the month of November to raise $24,876, more than double the sum of last year's No Shave November funds.
Richard H. Hart, MD, DrPH, president of Loma Linda University Health, thanked participants for their contributions in the fight against cancer, which Loma Linda University Health treats through strategies including providing complex care, as well as expanding knowledge through research and clinical innovation. One such innovation the Cancer Center is pursuing, called theranostics, allows oncologists to molecularly target and kill cancer cells while sparing healthy tissue, Hart said.
"This event, which unites two significant groups — law enforcement and healthcare — supports our steady progress and breakthroughs in cancer research, such as the exploration of theranostics," Hart said. "Theranostics is a brave new world that will change the face of cancer care and offer new ways to treat cancer beyond the traditional methods that we now have."
Of course, the No Shave November event would be incomplete without its quintessential moment of beard judging. For a month preceding the event, members from the law enforcement agencies and Loma Linda University Health compete to grow out facial hair in hopes of earning a top title in five categories: best beard, whitest beard, best mustache, best eyebrows, and best attempt. The award ceremony was hosted virtually via Zoom on Nov. 30.
LLU Cancer Center director Mark E. Reeves, PhD, said during such difficult times, No Shave November offers a fun way for members of the community to be able to focus on and raise money for important cancer research. He also acknowledged new sets of challenges COVID-19 presents for cancer patients already leading a strenuous battle, and the importance of supporting them throughout the journey.
San Bernardino Police Chief Eric McBride said everyone is either directly or indirectly touched by cancer, sharing that some of his colleagues at the police department and family members have been diagnosed.
"Everyone is affected, so it is important to look into cancer research," he said. "I believe No Shave November will only continue to grow as an event in the years to come."