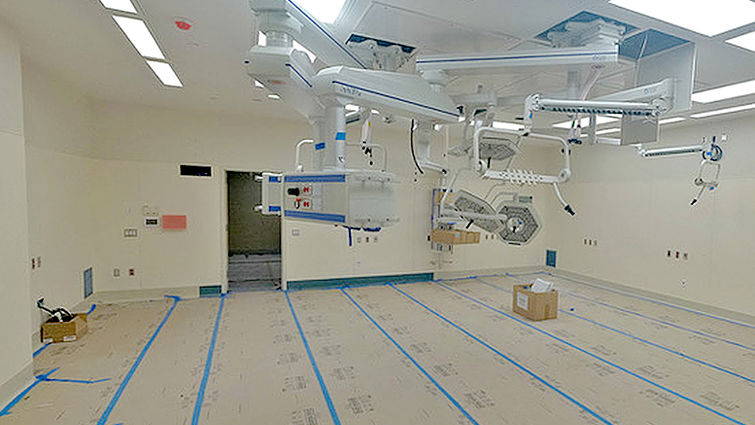 Watch a special First Look video tour of the future Adult Hospital's third floor below!
Adults who come to Loma Linda University Medical Center for surgical services will find their experience enhanced in several ways in the future hospital. The future hospital's surgery center for adult patients will be located on Level 3, part of the new structure's podium section. When open, the surgical center will have all operating rooms and both pre- and post-operative care units on the same floor. A family waiting area also will be on the third floor.
The new hospital will include 20 operating rooms. These new operating spaces are larger than the ones in the existing hospital, averaging 747 square feet. The new operating rooms will provide our surgeons with advanced technology designed to treat some of the most complicated medical conditions. The larger rooms will enhance surgical teams' ability to work together efficiently.
Two hybrid operating rooms, an operating room with an array of built-in critical equipment, will be part of Loma Linda University Health's surgical offerings for the first time. These hybrid rooms will support a multi-disciplinary approach to surgical services, allowing different specialties to work together to treat multiple medical issues in a single episode of care. This approach allows for fewer additional procedures and reduced possible complications.
The future hospital holds a total of 39 Pre-Op bays and 24 Post Anesthia Care Units, or PACU's. It also has three endoscopic procedure rooms adjacent to the Pre-Op/PACU spaces.
Once a patient is transported to one of the PACU's or "Recovery Room," the family knows the operation is over. In the Recovery Room, patients slowly wake up from anesthesia while their vital signs are closely monitored, given IV fluids, and pain management begins. From the PACU, patients are taken to a predetermined hospital room based on the level of care each individual patient will require.
The future adult hospital and Children's Hospital towers will incorporate leading advances in patient safety and comfort. Every interaction with patients is part of the commitment by every physician and staff member to hope and healing. Designed to continue Loma Linda's 115-year legacy of outstanding care, the future hospitals will anchor the healthcare needs of a vast region of Southern California and serve as an educational and research hub to shape healthcare in the United States and around the world.
We're sharing photographic updates of the hospital construction work on a regular basis.  This vignette is adapted from a blog by Dennis E. Park, which appears on the website www.docuvision2020.com.