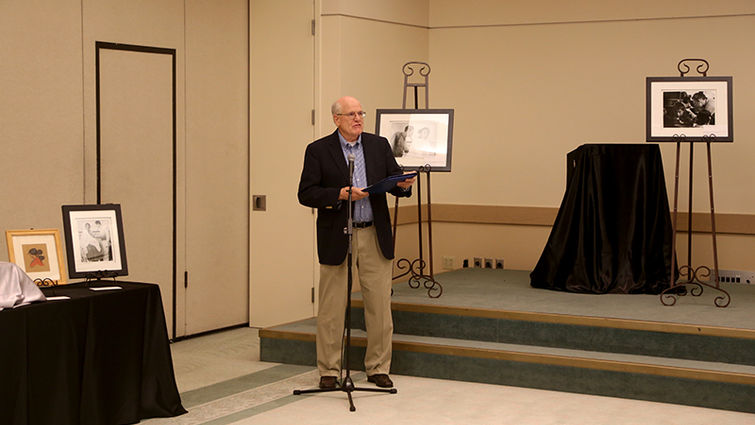 To celebrate Native American Heritage Month, the office of diversity at Loma Linda University School of Medicine hosted an exhibit of photography and art celebrating the career of Vincent Gardner, MD, an alumnus of the class of 1944-B at the school.
Titled "Dr. Vincent Gardner, Medicine & Mission: Years with the Navajo Nation," the exhibit—which was held on Tuesday, November 22—features black and white photographs taken by Look magazine photojournalist Phillip Harrington in 1956. Several of the images were displayed in an article on Gardner and his medical missionary work that appeared in the September 4, 1956 issue of Look. Also included in the display were a large Navajo Yeibichai rug from the Gardner family's personal collection as well as a wooden nameplate with a carved Navajo couple on it, which was donated by a grateful tuberculosis patient Gardner treated. There were also several other pieces of Native American art including paintings, pottery, sculpture, and a hand-carved flute.
At the event, Robert Gardner, PhD, a professor of sociology at Walla Walla University in Washington state, gave a brief talk about his father's life and career.
"Health disparities have persisted since the 1500s," Gardner told the estimated 30 people in attendance. He pointed out that in the 1950s, the average life expectancy for Native Americans was just 30 years, compared to 70 years for the average American. In noting that his father specialized in treating tuberculosis among tribal members, he said that in 1950, there were 171 deaths per 100,000 Navajos, and that the numbers ranged between 10 to 23 deaths per 100,000 among members of the general population.
Gardner said his father began working at Monument Valley Adventist Mission Hospital in 1950 and later transitioned to a government hospital on the reservation.
Throughout the afternoon, a steady stream of visitors came to the Wong Kerlee International Conference Center to see the exhibit and talk with Gardner as well as Daisy De Leon, PhD, professor at the school and assistant to the dean for diversity.
"We were very gratified to see so many people turn out to celebrate this important event commemorating National Native American Heritage Month," De Leon observed. "We count it a privilege to celebrate the achievements and legacy of the first Americans. We are delighted to find, in the life and career of Dr. Vincent Gardner, such a close connection to the School of Medicine."