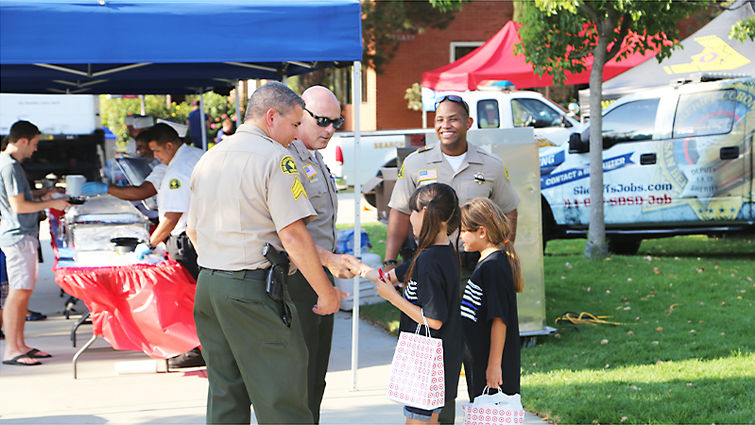 "Fun!" (said in unison) was three kids' instant answer to how they enjoyed National Night Out, hosted by Loma Linda University Health on Aug. 2. The annual event, which takes place at locations across the country, is designed to increase police-community partnerships and neighborhood camaraderie, making the local area a safer place for all.
Over 300 guests attended the event.
Decked out in fire chief hats as well as junior deputy and junior paramedic badge stickers, the three Chavez children quoted above — Kayla (age 12), Daniel (11) and Jasmin (8) — listened patiently as their mother, Andrea Chavez, learned about the proper use of child safety seats from Safe Kids Inland Empire coordinator Michelle Parker, MA, from Loma Linda University Children's Hospital.
The Safe Kids booth was just one of many stops at National Night Out on Loma Linda University Health's campus mall: guests also had the chance to visit with and see demonstrations by representatives of the San Bernardino County Sheriff's Department, including bomb, arson and SWAT officers; search and rescue experts; members from Loma Linda's Fire Department and community emergency response team; the K-9 security team at Loma Linda University Health and more.
John Marshall, director of campus security at Loma Linda University Health, expressed the value of this event, saying, "This was a fantastic opportunity for Loma Linda University Health to show its dedication to our community's safety and to supporting our law enforcement partners.
"I watched as children, adults and sheriff's deputies enjoyed each other's company, took photos together and built community engagement."
The Sheriff's Department served dinner; guests made friends with K-9 officer Wolf, an explosives-detecting and tracking dog; and law enforcement officers demonstrated how they keep residents safe.
This was the first time the Sheriff's Department has held National Night Out at Loma Linda University Health.
"It went really well," reports Sylvia Beasley, sheriff's service specialist. "We had a lot of people come out and visit with us and a lot of displays. It was nice to have our different divisions interact with the public. The officers enjoyed the chance to see the kids' excitement about the bomb squad, SWAT team and all the other vendors we had there."