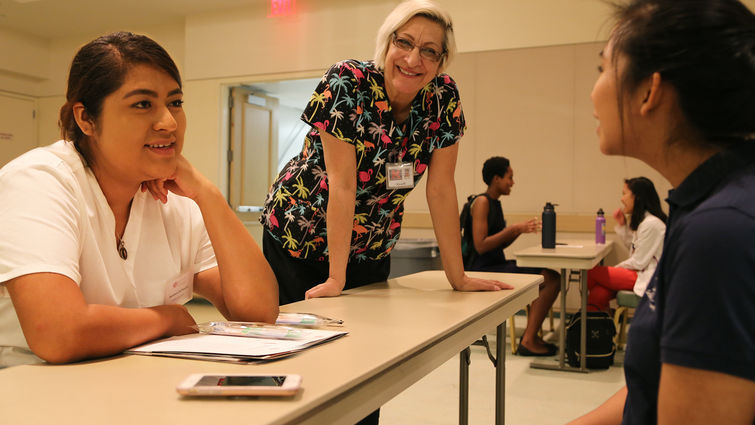 More than 50 local high school students on Sunday attended Loma Linda University Health's My Campus program, a quarterly initiative that introduces minority youth to education and careers in healthcare.
The event featured presentations on healthcare career opportunities, learning activities, speed-mentoring, and information on potential earning capacity.
My Campus, which launched in 2012, is sponsored by the department of Community-Academic Partners in Service (CAPS). The program typically draws 225 underrepresented minority participants each year.
The April 22 event was led by the School of Dentistry and School of Medicine and was attended by 53 students of African-American, Hispanic and Pacific Island decent.
"We believe that education and workforce development community programs — starting at the high school level — are strategic approaches to empower our community and build a better and more sustainable future," said Juan Carlos Belliard, PhD, MPH, director of Loma Linda University Health's Institute for Community Partnerships.
My Campus is one of three on-campus programs that introduce youth from the surrounding community to education and careers in health professions. CAPS also offers the Summer Gateway Program, a two-week learning experience for high school students. The program covers careers in behavioral health, dentistry, medicine, nursing, pharmacy and public health. Participants engage in local community service and select students have the opportunity to shadow Loma Linda University Health's practicing health professionals for an additional week. The Robotics Surgery Simulation Program, a half-day workshop, allows upperclassmen to tour the Loma Linda University Medical Center, meet with peri-operative clinicians and observe robotic simulation training. 
The programs have steered numerous students into the healthcare field who may not have otherwise considered it. Sunday's event may have charted a new direction for one high school student. He said that before the event he was afraid to go to college, but after speaking with Loma Linda University students and hearing the presenters he feels confident in pursuing a career in healthcare.
Rosa Aguilar, a technical career education teacher at the A.B Miller High School in Fontana, has brought her high school students to the quarterly My Campus events for the past three years.
She is typically the only teacher who attends with her students, says CAPS director, Pablo Ariza. "Her commitment to sharing health professions with her students is evident," he said. "We have seen many student success stories because of her involvement with our program."
Aguilar said she has personally experienced the impact of the My Campus program. Two of her sons chose health professions after attending one of the quarterly events. Her youngest son, a junior attending California Baptist University in Riverside, changed his major from undecided to radiological sciences. Her eldest son switched to a public health major and will be graduating from the same university in June. He said he plans to apply to Loma Linda University School of Public Health. 
According to Aguilar, who has worked for the Fontana School District for 10 years, her favorite part of the My Campus experience is speed-mentoring. Students are able to ask real questions and get real answers instead of just learning about a career through a brochure or researching on the internet. "There is nothing like being able to speak with a health professional or a university student in person," she said.