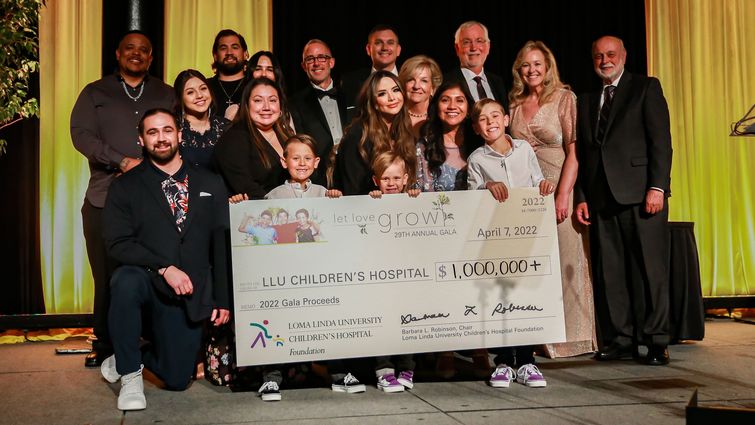 More than 800 community philanthropists and hospital supporters gathered virtually and in-person for the 29th annual Foundation Gala, raising $1,000,000 and growing as donations continue to come in for patients at Loma Linda University Children's Hospital on April 7.
The program was themed "Let Love Grow," focusing on helping children around the community receive the care and loving support they deserve to grow up healthier and happier.  
Peter Baker, senior vice president and administrator of Children's Hospital, addressed guests, speaking to 2021's year of growth for the organization, including the new Children's Hospital tower opening, the San Manuel Maternity Pavilion opening, national rankings and awards, and more.
"Tonight's gala focuses on a reason of renewal as we celebrate new beginnings in our Children's Hospital, and, most importantly, the love we share for our community," Baker said. "We continue to explore the greatest opportunities for the children and families of the Inland Empire region and beyond, constantly growing and evolving. Our next generation deserves nothing less."
The philanthropic evening featured patient stories, auction packages, and more. Funds will support Children's Hospital in reaching more kids than ever before — growing hope for an even brighter future.
Four awards were presented to individuals or groups who have significant dedications to the lives of children.
Alaina Mathews, Laurena and Darrell Bolden, Trevor and Demi Mathews, Nathan Mathews and Alexis Leyva received the Shirley N. Pettis Award
Barbara Robinson received the Nancy B. Varner Lifetime Achievement Award
Douglas Deming, MD, received the Dr. Leonard L. Bailey Outstanding Clinician Award
Donald Moores, MD, and Penny Moores received the Hometown Hero Award