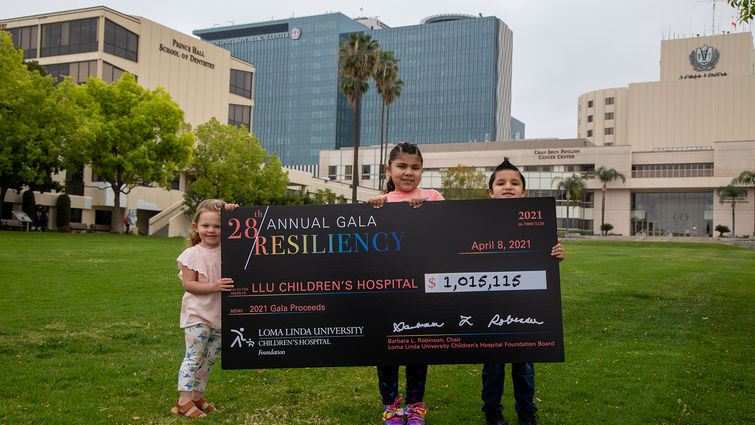 More than 1,000 community philanthropists and hospital supporters virtually gathered for 28th Annual Foundation Gala raising $1,009,115 for patients at Loma Linda University Children's Hospital on April 8.
Presented by Alaina Mathews, Nathan Mathews and Alexis Leyva, the "Resiliency" themed free-of-charge program took a special look at the hospital's continued dedication to caring for children in the Inland Empire and beyond throughout the COVID-19 pandemic.
Kerry Heinrich, CEO of Loma Linda University Health, addressed guests saying how important it was to imagine experiencing the pandemic through the eyes of a child.
"The unacceptable reality is children in our communities face tremendous adversity every day and the pandemic has only worsened life for many of them," Heinrich said. "Tonight, we are coming together to support the whole-child concept of resiliency for children."
Funds raised will contribute to Children's Hospital's mission in helping children disproportionately affected in the community by abuse, neglect and other adverse childhood experiences to reach a place of wholeness, health and safety. Funds will also support the purchase of an advanced neuronavigator system for pediatric neurosurgery. 
Four awards were presented to individuals or groups who have made significant dedications to the lives of children.
Walter's Children's Charity Classic received the Shirley N. Pettis Award
Loma Linda University Health Frontline Workers received the Nancy B. Varner Lifetime Achievement Award
Ricardo Peverini, MD, was recognized with the Dr. Leonard L. Bailey Outstanding Clinician Award
Robin Diamond-Ward received the Hometown Hero Award