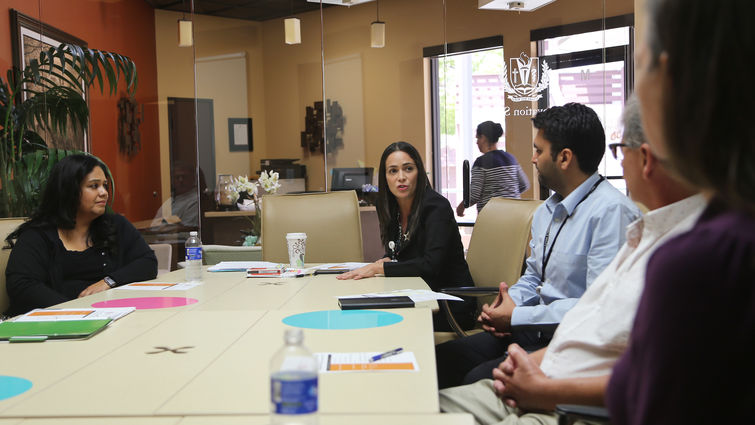 Children, families and communities in the Inland Empire and the High Desert  will soon benefit as five community programs are implemented and strengthened through a partnership with Loma Linda University Health. A series of $5,000 mini grants have been awarded in support of programs that, for example, will help individuals who are or formerly incarcerated to build a stable future. The programs will also provide mental health services to children and families. A complete list of the programs appears below.
The 2017 Community Health Development Initiative Awards were offered by the Community Health Development Department, which is under the umbrella of the Loma Linda University Institute for Community Partnerships (ICP).
Organizations from San Bernardino and Riverside Counties were eligible to apply for the grants. This initial year of the awards program had 22 submissions from a wide variety of community-based organizations. Five programs were selected following an application submission and independent review process. The grants and evaluations were for a one-year time period.
On June 22, representatives from the five programs met with staff from the Community Health Development Department at their offices. Over the coming months they will participate in an ongoing collaborative process that will include design and implementation of systems that will measure the effectiveness of each program through the life of each grant.
Robin Smith, PhD, assistant professor of public health and medicine and director of community Health Development/Community Benefits, said he was very encouraged by the meeting.
"Our goal, and our hope, is that we learn from each other about what can be strategic community investments beyond the monetary, and that Loma Linda University Health can be a true resource working with these and other partners in enhancing the health and quality of life in our community," Smith said.
Smith said he is optimistic about the opportunities that the new partnerships will bring.
"Our Community Health Development Initiatives 2017 give us an opportunity not only to learn about the numerous community programs that are going on, but to support them and collaborate in a meaningful and sustainable way," he said.
The collaboration includes assistance from Nellie Leon, DrPH, MPH, director of the IPC evaluation unit and assistant clinical professor at the School of Public Health, who reassured the participants that Loma Linda University Health's participation will not be restricted to quarterly meetings. "We will be pleased to make presentations to your staff to assist with program design with a focus on evaluation and outcome," she said.
Leon reassured the grantees that successful outcomes are not measured by simple numerical metrics alone, as results from grants of $5,000 can be reported though a mixed method approach—telling stories from individuals in the communities whose lives were impacted as a result of the program."
The Community Health Development Initiatives 2017 recipients and projects are:
Bing Wong Elementary School: the purchase of equipment for a new iCARE Career Exploration Lab where students in primary grades will explore a variety of healthcare careers.
Restaurando Vadas: "Anxiety in school age children," a program offering counseling, support groups and workshops to parents of children who are experiencing anxiety about immigration issues.
Voice in the Desert Community Agency: "The Strong Me Program," providing mental health and community services related to parenting, co-parenting, substance abuse and mental health.
Path of Life Ministries: "Mobile connections — Peer support for the Homeless project," providing a portal for the homeless to receive responsive behavioral health care in support of their obtaining and maintaining stable housing —creating communities of wellness in the Inland Empire.
Center for Employment Opportunities (CEO): Supporting the organization's work in San Bernardino to provide employment services to 170 residents from regional correctional institutes who are under parole or on probation in fiscal 2018.