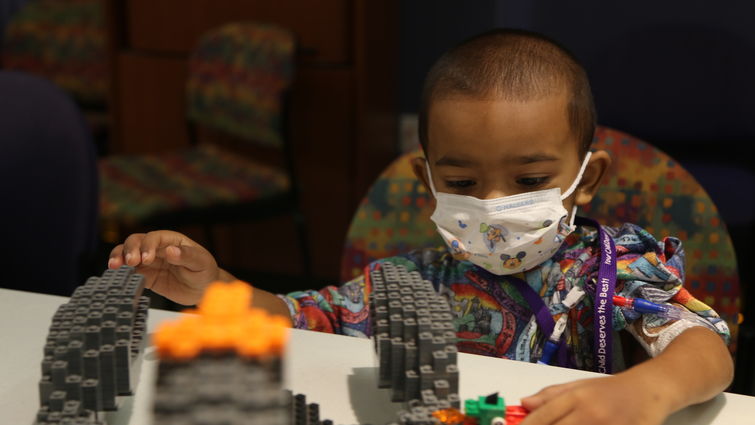 Seriously ill, disabled and disadvantaged. To the team members of Merlin's Magic Wand, these terms mean nothing more than the opportunity to share a little magic.
Merlin's Magic Wand is a worldwide charity for children that arranges fun-filled days for children in need, and last week they collaborated with LEGOLAND® California Resort to bring the magic to Loma Linda University Children's Hospital.
On Sept. 15, a team of four arrived at the hospital with LEGO® models in hand to brighten the day for more than a dozen patients along with their siblings and parents. Children of all ages were in attendance to meet Master Model Builder Bill Gowdy and the rest of the team.
Gowdy started by telling the kids that you really can make a living out of building LEGO models. After receiving his first set at 6 years old, he was hooked. He expressed that like all young boys, he liked girls and worried it was uncool to continue playing with LEGO, but the difference was that he never stopped. Gowdy later went on to work in the Navy for 30 years where he also pursued his creativity by making movies. Once he retired from the Navy he discovered that he could have a career building things, just like he did as a child, from his imagination. That is when he started working at LEGOLAND California.
Following introductions and Gowdy's brief presentation, the team went on to work with each of the children around the room to help them construct a variety of creations ranging from monkeys and dragons to whatever they could dream up from a large pile of LEGO bricks supplied on a table in the back of the room.
"I enjoy doing this type of event because of the kids," Gowdy shared. "So many of them are going through things that you wouldn't wish on anyone, and this type of setting gives them something to focus on other than what they are going through daily."
He added that the greatest result for him is to see the excitement when a kid has that ah-ha moment and says, "I finished my monkey!"
"I remember the first time I built something that wasn't a set," Gowdy said. "I had the same ah-ha expression and now I'm able to do that at work every day and later see my creations in LEGOLAND Park making people happy."
Seeing the smiles of children who are excited to create something and treasure it in the days to come brightens not only the children's lives but also the lives of those working with them. Bianca Prandini, a child life specialist, has worked at LLU Children's Hospital for 17 years and shared that she thought the event was wonderful.
"I brought several younger kids as well as a few older ones and everyone is smiling," Prandini said. "It is relatable for all ages and it helps to break up the monotony of their daily routine here in the hospital."
While this is the first event that Merlin's Magic Wand and LEGOLAND California have held at the hospital, they have collaborated in the past to provide park tickets to patients and their families who meet a certain criteria.
Kelly Jackson, director strategic alliances, helped to coordinate this event and shared her insight behind the value of collaboration, saying, "Merlin's Magic Wand and LEGOLAND California are passionate about providing special and unique experiences for children and their families. Loma Linda University Health is incredibly grateful to have partnered with these new community partners to bring smiles to our patients through meeting and playing with a LEGOLAND Master Builder."
To learn more about Merlin's Magic Wand, see their website at https://www.merlinsmagicwand.org/usa.