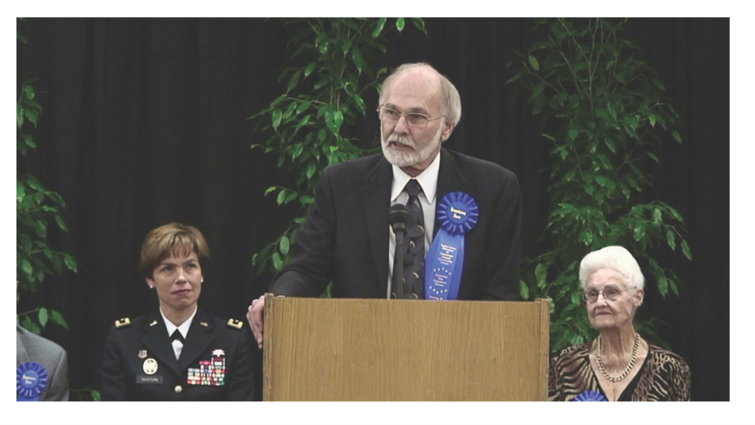 Richard "Dick" Schaefer, Loma Linda University Health's official historian and storyteller, who served as director of community relations for nearly two decades, including during the high-profile 1984 "Baby Fae" surgery, died October 23. He was 80 and died from complications of Leukemia.
Schaefer, who served as a spokesperson for the organization from the late 1960s to the 1980s, worked at LLUH for over 55 years.
A native of Loma Linda, Schaefer earned a bachelor's degree in communication from La Sierra College (now La Sierra University) in 1966 and became assistant to the director of University Relations, precursor to the LLUH Office of Public Relations. Two years later, in 1968, he became community relations officer, representing Loma Linda University Medical Center.
In 1976, Schaefer was asked to head the LLUH Office of Community Relations, the healthcare counterpart to University Relations.
In 1984, infant heart transplant pioneer Dr. Leonard Bailey performed a procedure on a patient that thrust LLUH into the international media spotlight. Schaefer and his communication colleagues were immediately inundated by hundreds of media organizations. On several occasions, he provided news updates — sometimes on camera — to major U.S. television networks, as well as hundreds of other media organizations.
"That was baptism by fire," Schaefer recalled in an interview with the Press-Enterprise in 2012. "We were used to dealing with the news media 1,000 times a year, just giving patient condition reports and working on human interest stories. But when Baby Fae happened, that [number] went to 1,500 times a day."
In 2000, he was tasked with researching and writing the history of Loma Linda University Health. Over the years, he published several books, including Legacy, focusing on the heritage and history of Loma Linda University Medical Center; On Becoming Shryock, a biography of one of Loma Linda University's founding pioneers, Harold Shryock; and Glory of the Vision—Unabridged, a five-volume history of Loma Linda University Health. Schaefer also wrote and published the book Creation: "Behold, it was Very Good," a publication in which he cited nearly 1,000 scientists and commentators on both sides of the creation/evolution debate.
He served on the Board of Directors for Arrowhead United Way and United Way of the East Valley for a decade. In Forest Falls, where he was a resident for many years, he was part of the Board of Directors for the Forest Park Mutual Water Company for three years, as well as commissioner for the Forest Falls Fire Protection District for two decades. From 2008 to 2010, he served as president of the Loma Linda Chamber of Commerce, as well as commissioner of the City of Loma Linda Historical Commission beginning in 2008.
Schaefer had a twin brother, Bob, who would sometimes listen while unsuspecting individuals conversed about LLUH happenings, then calmly inform the speaker that they probably thought he was his brother.
Schaefer thoroughly enjoyed researching and writing the history of Loma Linda University Health, which he called "a special place on earth."
"Sometimes, in the quiet of my office in the Del E. Webb Memorial Library," he shared during a 2020 interview with Margie Miller of Loma Linda City News, "I find myself laughing out loud — and sometimes, reaching for a box of tissues."