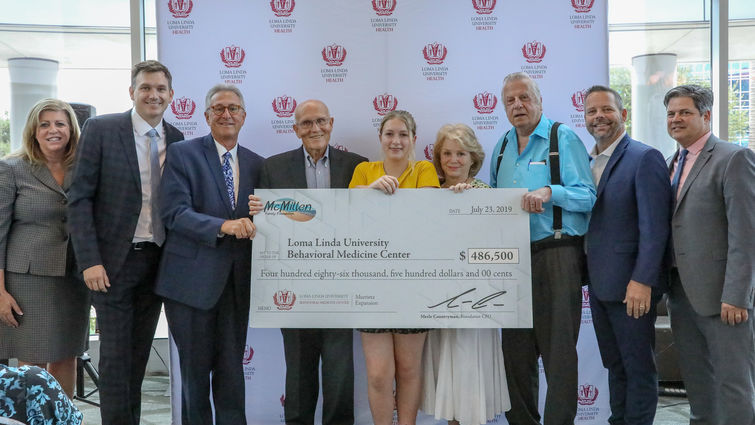 Loma Linda University Behavioral Medicine Center – Murrieta has received a $486,500 gift to fully fund the expansion of its outpatient adolescent behavioral medicine program.
The gift is from the McMillen Family Foundation, which funds Southern California charities that serve people affected by drug and alcohol dependency. In addition to the full expansion funding, the donation will also provide financial patient assistance for those who qualify.
Peter Baker, senior vice president and administrator at LLUMC – Murrieta, introduced the family at a ceremony today and thanked them for their friendship and generosity to the Murrieta hospital. "It's truly a God-sent blessing to be partnering with the McMillen Family Foundation," Baker said.
The outpatient adolescent program in Murrieta has served Murrieta, Temecula and surrounding cities. The newly renovated space will allow the program to add 3,620 more visits in the first year of the expansion.
"We've been blessed to have people in the community who see the importance of serving local health disparities and actively work to make positive change," said Edward Field, MBA, vice president and administrator of the LLU Behavioral Medicine Center. "The McMillen Family Foundation's gift will allow our providers to restore hope, meaning and purpose to a larger number of patients."
The McMillen Family Foundation was created in 2008 by Karl McMillen and his wife, Carol. Karl spent much of his life working to build his two successful businesses. However, he lost his first wife to cancer and both his sons to substance abuse. These life events fueled his passion to not only give back but to make a difference in the lives of those who struggle with substance abuse.
To learn more about Loma Linda University Behavioral Medicine Center's Murrieta location, please visit our website. Physician referrals can be made by calling 951-290-4121.