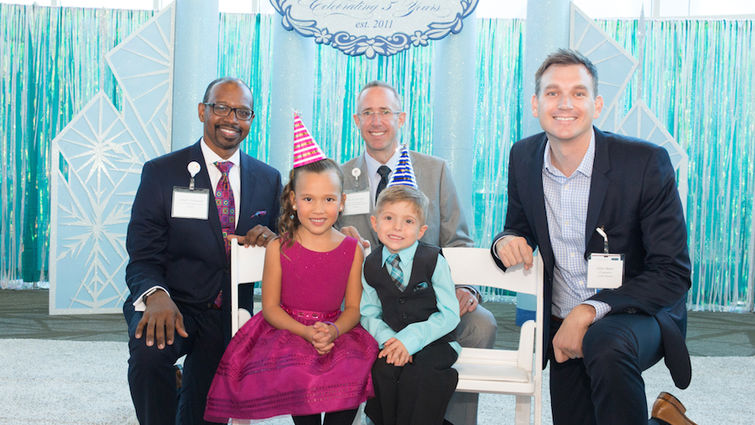 It was a day commemorated with prayers of gratitude, proclamations, celebrations, and special visitors.
Loma Linda University Medical Center – Murrieta (LLUMC – Murrieta) celebrated a very special milestone in the history of the Southwest Riverside County institution, as the hospital marked its five-year anniversary. The September 25, 2016, celebration included an open house, organized in partnership with Big Hearts For Little Hearts –Temecula Valley.
The celebration also included a 5th birthday bash for the first babies born on the day the hospital opened its doors, Roxy and Bentley.
Members of the Murrieta community attended the festivities, which included multi-colored cupcakes, white chocolate strawberries, and fresh fruit spears. The children who attended received a fairy tale visit from an Ice Princess and a Snow Queen, who sang songs and read stories with them.
Randon Lane, Mayor of the City of Murrieta; Chuck Washington, Supervisor, Third District, Riverside County Board of Supervisors; and Maryanne Edwards, Assistant to Senator Jeff Stone and Mayor Pro Tem from the City of Temecula, were all on hand to present Trevor Wright, Chief Operating Officer and Administrator of Loma Linda University Medical Center – Murrieta, with proclamations and certificates of appreciation for the hospital's service to the community.
Opened in 2011, the 256,000 square foot, 106-bed, state-of-the-art acute care facility delivers advanced care to residents in Southwest Riverside County. The facility owes its origins to the vision and dedication of a group of community physicians and investors who formed Physicians Hospital of Murrieta (PHM). Together the group purchased the land, hired an architect, and obtained regulatory approvals to build the hospital. Later, the project became a joint venture between PHM and Loma Linda University Medical Center.
Bridget Brown, junior guild member, from the Big Hearts for Little Hearts –Temecula Valley Junior Guild, presented a check for $3,000 that she raised to purchase a Bili blanket for the hospital.