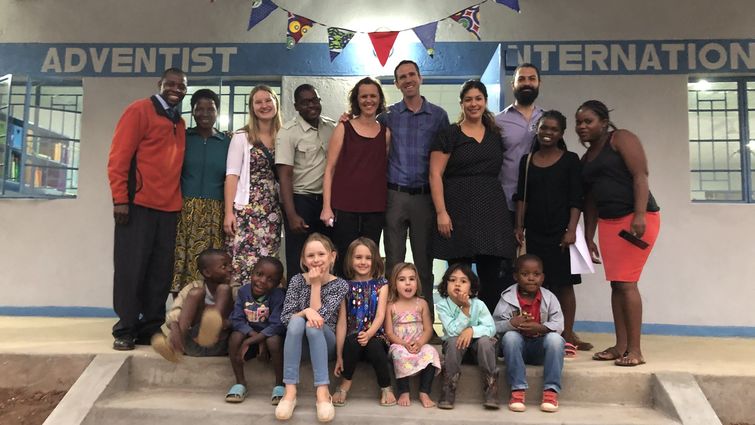 September 18 marked the first day of school for six children of medical missionaries and local healthcare professionals serving at Malamulo Adventist Hospital, a Loma Linda University Health Global Campus in the Southeastern African nation of Malawi.
The newly-constructed Malamulo Adventist International Mission School is a 1,774 square-foot, concrete-brick building housing grades kindergarten through six.
The school was built under the management of Aaron Graybill, RN, MPH, a Loma Linda University School of Public Health graduate. He serves as chairman of the Malamulo Adventist International Mission School board in addition to his role as international projects coordinator at Malamulo Adventist Hospital.
Danika Thomas, MA, an Adventist Health International volunteer, specializes in multi-grade teaching and is serving as administrator and teaching principal. She is the wife of pediatrician and medical director of Malamulo Adventist Hospital, Wilson Thomas, MD — a Loma Linda University School of Medicine alumnus and Deferred Mission Appointee.
"Through generous donations from Loma Linda University Medical Auxiliary and Adventist Health International, we were able to build a much-needed American education-style school for the children of our dedicated volunteers and staff," Thomas said.
Loma Linda University Medical Auxiliary has demonstrated God's love through benevolence and shared service since 1932. The Auxiliary is committed to continuing a heritage of unselfish dedication to service, beneficence and healthful living, as well as to responding to humanitarian needs in today's changing world.
"Schooling for children is a basic need among parents whether serving abroad or living at home," said Alice Yeo, Loma Linda University Medical Auxiliary president. "We are happy to support learning during this important stage of life."
Thomas said textbooks and supplies were donated by Seventh-day Adventist elementary schools and academies from across California's Inland Empire. The Auxiliary sponsored the shipment of over 1,200 pounds of school supplies and books to Malamulo Adventist Hospital.
Malamulo was founded in 1902 as a mission outreach of the Seventh-day Adventist Church.
In 1915, Malamulo Mission opened its first clinic, which was later named Malamulo Adventist Hospital. Today it is recognized as one of the leading training hospitals for Malawi and the region — providing quality, caring and Christ-centered healthcare to Malawi's underserved rural population. The 200-bed facility provides preventative healthcare services and specialized services in women's and child's health, infectious diseases, chronic disease and general surgery. Typical cases include pneumonia, malaria, TB, HIV complications, dehydration and meningitis.
Malamulo Adventist Hospital is supported by Loma Linda University Health's Global Health Institute and managed by Adventist Health International. It was established as a Loma Linda University Health Global Campus in 2011 — giving residents and students of Loma Linda University and elsewhere the opportunity to rotate outside the United States and earn accreditation for the international rotation.
The Department of Surgery at Loma Linda University employs a two-month surgical rotation approved by the Accreditation Council for Graduate Medical Education (ACGME) at Malamulo Adventist Hospital. This rotation is incorporated into the standard resident rotation schedule and is the only ACGME-approved site outside of the United States. 
Over the next five years, Loma Linda University Health will establish a second Global Campus in the Americas at Haiti Adventist Hospital in Port-au-Prince, Haiti, and a third in Asia at Scheer Memorial Adventist Hospital in Kathmandu, Nepal.
To learn more about Loma Linda University Health's global healthcare and education initiatives, visit the Global Health Institute website, email ghi@llu.edu or call 909-558-4420.