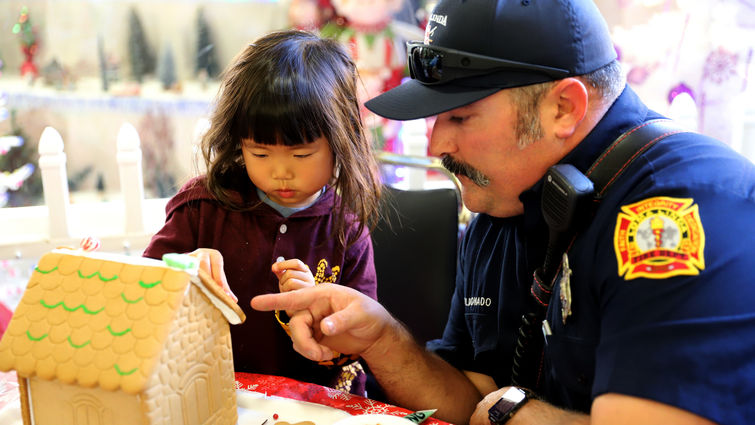 Patients at Loma Linda University Children's Hospital created and decorated a gingerbread village, filling the hospital lobby with holiday cheer on Monday, Dec. 3. 
Patients were provided with pre-built gingerbread houses, colorful icing and goodies of all kinds and were encouraged to use their imaginations while they decorated. Those patients who were unable to leave their units were given their own personal gingerbread kits to decorate in their rooms. 
The annual event is made possible by the Big Hearts for Little Hearts Loma Linda Guild, along with the generosity of Costco Wholesale, which donated 130 gingerbread house kits; Walmart Neighborhood Markets, which donated candy and an additional 25 gingerbread houses; and Alta Vista Credit Union, which donated stuffed animals for the event. 
Children's Hospital patient Joseph Perlman, 16, from Victorville was happy for the change of scenery and spent several hours intricately decorating his gingerbread house. "It's boring and depressing being stuck in your room for hours, so I'm glad for something to do," Perlman said. "This is the first time I've ever decorated a gingerbread house. I actually had fun." 
Lauren Weeks, Mrs. International 2018, and members of the Loma Linda Fire Department brought extra smiles to the faces of patients by visiting with them, taking photos with them and helping them decorate their gingerbread houses. Patients also had the opportunity to take a picture with Santa. After the photo op, they each received a stuffed animal, and their gingerbread masterpiece was put on view in a colorful, festive display.
Check out the photo gallery below to experience the holiday magic for yourself!