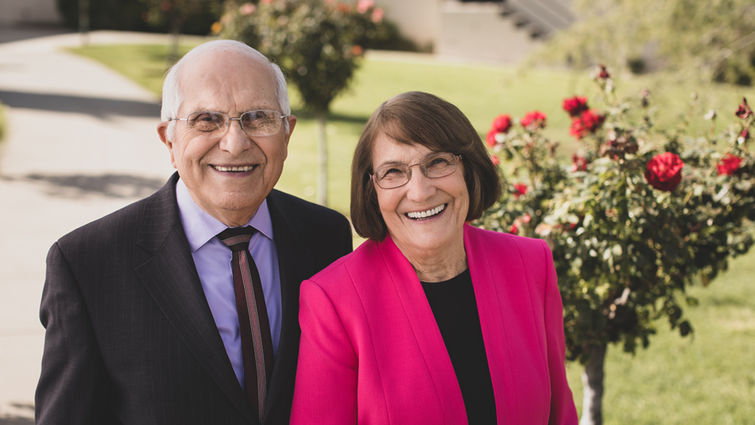 A lifetime committed to higher education combined with a desire to support international students studying public health have inspired Edmond and Ella Haddad to establish a new endowed scholarship fund at Loma Linda University School of Public Health.
"God has been very good to us, and it was His intention in both of our lives that we teach in Adventist institutions," Edmond said. "We believe education should be open to anyone wanting to really learn. The best way to invest in young people is through education."
Both Haddads have been part of Loma Linda University's faculty or administration for a number of years. Edmond served for 13 years associate dean for graduate studies beginning in 1994. When the School of Graduate Studies transitioned to the faculty of graduate studies, he became a special assistant to the university provost. Edmond retired in 2009.
Ella first came to Loma Linda University as a student in the School of Public Health, earning her Doctorate of Public Health in 1979. After teaching at Middle East College for several years, Ella returned to the School of Public Health as a faculty member teaching nutrition.
Not surprisingly, the couple met as students in 1949. They were both eighth-graders at Middle East College, and both were outstanding students. After completing high school, Ella came to the United States to attend La Sierra College in 1954. When she returned to Lebanon for a summer, the couple married, and both returned to La Sierra to continue their education. They've been married for 63 years.
Both Edmond and Ella came to the United States to study. By working hard, both were able to complete both undergraduate and graduate degrees without financial assistance. They saw a change in higher education's cost when their children began entering college.
"Our oldest son was a U.S. citizen, so he was able to qualify for a range of aid," Ella said. "Our other children needed loans and aid, but couldn't get assistance. Only expensive private loans were available to them." Supporting international students became an important priority for the Haddads.
The couple first established a scholarship at Loma Linda University School of Dentistry in 1994. That fund honored their youngest son, Labeeb, who tragically lost his life as a result of injuries sustained in an off-road vehicle accident. He was a third-year dental student at the time of his accident.
The couple recently donated a piece of property to the university with the intent that proceeds from that property's sale be dedicated to student scholarships. The property was sold in 2018, and proceeds will support two scholarship endowments.
A new endowment, the Edmond and Ella Haddad International Student Scholarship, has been established in the School of Public Health. Edmond says it's his desire that the new fund honors Ella Haddad's work as a professor there. That scholarship will be awarded with a preference toward students studying nutrition. The first student recipient will be selected in 2020. The remaining proceeds from the property sale will be added to the existing Labeeb Haddad Memorial Scholarship in the School of Dentistry. Students from the Middle East will be the primary beneficiaries of these scholarships. The scholarship can also support students descended from Middle East families.
"We want the opportunity to continue education be open to faithful young Adventists coming from the Middle East to study at Loma Linda University," Edmond said. "We hope that one day when they are able, students who receive these scholarships will do something similar."
"Though School of Public Health graduates don't make as much as some other schools, sharing information on preventing disease through nutrition is very important," Ella said. "Interest in nutrition is growing in the Middle East. We really do need Loma Linda graduates to work in the Middle East.
For information on how to support worthy students by establishing an endowed scholarship fund or other planned gifts at Loma Linda University, contact Todd Mekelburg at legacy@llu.edu or 909-558-4553.