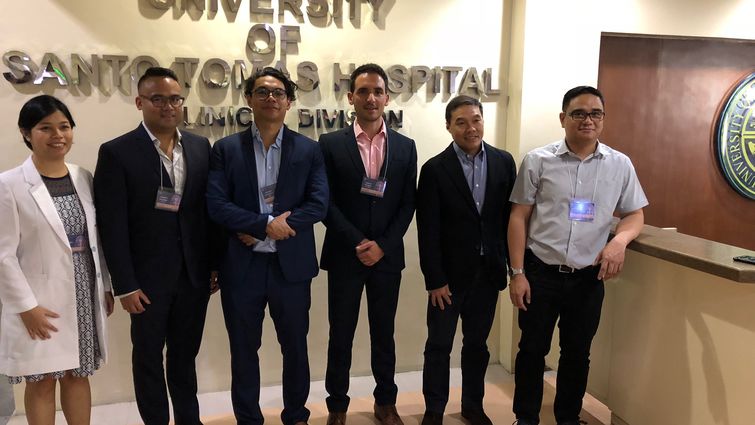 A Loma Linda University Health neurosurgeon is part of a team that is aiming to boost education and treatment for skull base surgery, and particularly endoscopic skull base surgery in the Philippines, a country that has only one neurosurgeon for every 1 million in the population. ​
Kenneth De Los Reyes, MD, MSc, assistant professor at Loma Linda University and co-director of skull base surgery at Loma Linda University Medical Center, partnered with a group of physicians traveling to Manila last month to provide consulting for staff and residents at the University of Santo Tomas and Jose Reyes Hospital. ​
The group established a program in which residents, trainees and staff could learn and practice first-hand endoscopic skull base surgery. It was also an opportunity for De Los Reyes and the other physicians to share the benefits of a multi-disciplinary approach and how it improves the quality of life for patients. ​
During the week-long trip, De Los Reyes and his team were able to successfully perform two endoscopic skull base surgeries. He says too often patients are left untreated or undertreated because the resources or surgery capabilities are not available in the region. ​
With the help of the neurosurgeons and ENT residents in Manila, the group was able to remove the pituitary tumors causing vision loss for both patients. According to De Los Reyes, 1 in 6 people experience a pituitary tumor. Many of these tumors are benign and can cause various dysfunctions such as, notably vision loss and hormonal dysfunction. ​
"These tumors are very treatable and surgery can be curative," said De Los Reyes. "To give someone back their sight is truly a miracle and to change their life with a procedure like this, is the best part of my job."​
Two days of the trip also included a symposium led by De Los Reyes and held at the University of Santo Tomas. The U.S. physicians focused primarily on the anatomy of the anterior (frontal) skull base and the best techniques to use when implementing treatment. The audience of physicians, residents and trainees also got to experience a live cadaver dissection.
"Many of the residents felt it was beneficial to participate in the symposium and plan to use what we shared in their own practice," De Los Reyes said. "It can be challenging at first to adapt to a new philosophy of care, but we hope they can continue to expand with a multi-disciplinary approach."
A New York native, De Los Reyes knew from a young age he wanted to pursue a medical degree. He said he was originally considering pediatrics since his sister was a pediatrician, but he was impressed by neurosurgery after observing an operation in high school. 
"I watched the surgeon remove a large hemorrhage from a patient's skull that had caused dangerous pressures for the patient and rendered him comatose," De Los Reyes recalled. "The patient woke up from the surgery and was able to go home after a few days, which simply amazed me. I knew at that moment neurosurgery would be my passion and love." 
De Los Reyes met his fellow travelers when he was a neurosurgery resident at Mount Sinai Medical Center, where several of them were ENT residents. The trip to Manila was the first time the three physicians operated together outside of their training. In fact, it was a life-long dream for all of them to not only share the operating room, but to visit the Philippines together. ​
De Los Reyes is an avid traveler and enjoys travelling internationally at least twice a year. The plan is to return to Manila next year and open the trip to other physicians at both Loma Linda University Health and Mount Sinai Medical Center. 
"We only scratched the surface," said De Los Reyes. "There's still so much more to teach, learn and discuss with our partners overseas, especially when it comes to training both ENT and neurosurgery trainees on a team approach to skull base surgery." 
In addition to Manila, De Los Reyes also plans to explore other islands within the Philippines and to help their healthcare institutions.