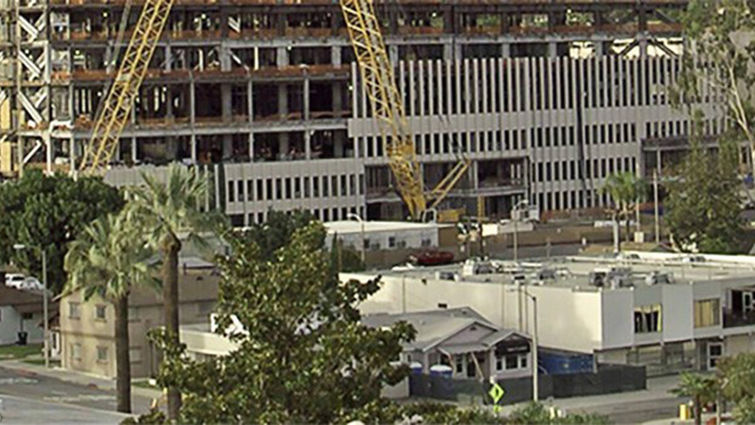 The general contractor for the new Loma Linda University Children's Hospital tower started the interior construction phase of the process last month, the latest milestone toward completing the nine-story structure.
Steel inspectors approved the welding and bolting of the tower in mid-October. With this sign-off, the Schuff Steel Company turned the structure over to McCarthy, the general contractor, to begin the interior construction phase of the process.
The hanging of curtain walls along the pedestal portion of the building is progressing. Two test windows have also been installed. The curtain walls are made of Glass Fiber Reinforced Concrete.
All nine stories of the steel frame for the new Children's Hospital tower are in place. The tower is next to the new Medical Center tower for adults, which will be 16 stories when the steel frame is completed in December. The two new hospitals will share a common pedestal of five stories.
The ongoing construction, which began approximately two years ago, is a part of Loma Linda University Health's Vision 2020 – The Campaign for a Whole Tomorrow. New buildings for both hospitals will meet and exceed California's upcoming seismic requirements for hospitals.
When completed, the new hospital facilities will be a place where 4,700 students and 700 residents progress in their education. Many of those students will become long-term members of the Loma Linda University Health team, while others will take what they have learned here to communities across the globe.
We're sharing photographic updates of the hospital construction work on a periodic basis. Watch for special emphasis on some of the behind-the-scenes-views and untold stories at the Vision 2020 website.
This vignette is adapted from a blog by Dennis E. Park, which appears on the website www.docuvision2020.com.