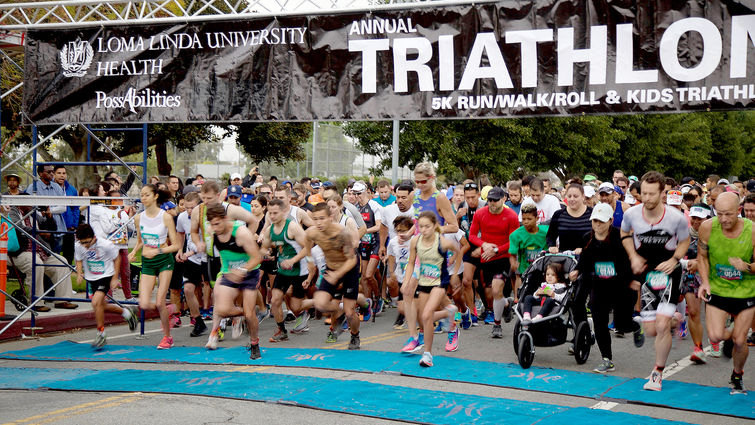 A total of 940 athletes ran, walked, wheeled, biked and/or swam their way to victory at the 16th annual PossAbilities & Kids' Triathlon, held Sunday, April 29, at Loma Linda University Health's Drayson Center. The event included a 5K, triathlon and relay race for all ages, and a kid's triathlon for children aged two to 14.
PossAbilities is a free community program of Loma Linda University Health that offers disabled and challenged individuals a sense of community and healthy social network.
At 6:45 a.m., Pedro Payne, PhD, director of community outreach for Loma Linda University Health, summoned racers to the starting area for the 5K and adult triathlon where he introduced dignitaries, welcomed competitors and guests, and honored U.S. veterans.
At 7 a.m., Payne instructed challenged athletes to line up behind the starting line. With "On your marks, get set, GO!" he sent them racing down Shepardson Street. Moments later, he sent the others on their way. Each athlete wore an electronic chip to record the exact times they crossed the start and finish lines.
On the sidelines, Gauthier Muhire of Colton, who recently learned to walk again after a diagnosis of peripheral neuropathy, announced plans to enter the 2019 triathlon. "Being disabled, you always feel like you aren't allowed to do a lot of things," he said. "Being able to participate in a run or triathlon allows you to overcome your disabilities."
As he predicted, 35-year-old Zimri Solis of Highland took first place in the male, moderate-leg-injury category and set a personal best time of 1 hour, 14 minutes 51 seconds. A list of all times and results is available online from Gemini Timing.
Cotie Williams, PossAbilities program manager, said finishing times were not recorded for the kid's triathlon. "Every kid who enters is a winner," Williams said.
After the races, competitors, family members and friends explored vendor booths and enjoyed free breakfast burritos courtesy of PossAbilities. Children played on a giant, inflatable slide.
"Overall, we couldn't be happier," Williams said. "We want to thank all the competitors for giving it their best, especially our challenged athletes. They train so hard to push beyond their limitations. They are all heroes in my book!"