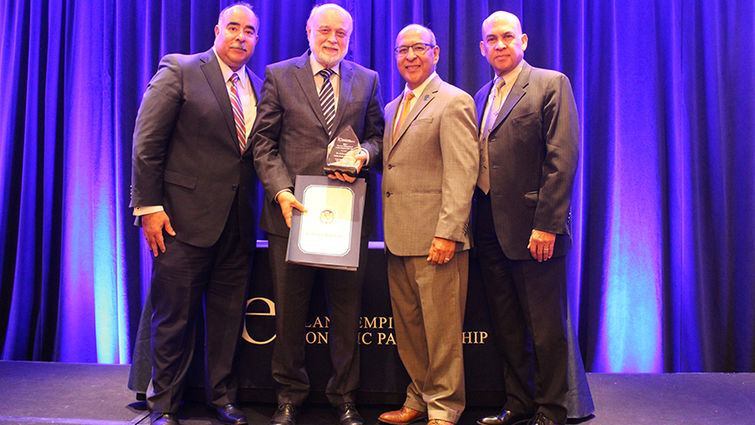 Loma Linda University Health President Richard H. Hart, MD, DrPH, was named the Larry Sharp Inland Empire Leader of the Year by the Inland Empire Economic Partnership during its 2018 annual dinner and awards ceremony, which was held the evening of Wednesday, Jan. 17 in Ontario.
President of Loma Linda University Health since March 2008, Hart led the drive to build the San Bernardino campus, which has been acclaimed for its role in aiding the economic recovery of the inner city. He received one of nine awards given by the IEEP to commend individuals and organizations for demonstrating exemplary economic leadership in the community.
Loma Linda University Provost Ronald L. Carter, PhD, who serves as a member of the IEEP Board of Directors, said the organization is intricately involved in a variety of programs to benefit the Inland Empire. "As a member of the IEEP organization, I am continually impressed with the leadership strength resident in the Inland Empire," Carter said. "The work done to improve career development, employment and healthy living throughout the Inland Empire is outstanding."
Carter noted that in selecting Hart to receive its highest award, the IEEP acknowledged the positive impact of Loma Linda University Health on the community. He also called it "a specific recognition that Dr. Hart is known as a visionary whose commitment to our region and to the world is enthusiastically endorsed by Inland Empire leadership from both the business and academic communities."
Carter added that the award is named in honor of the late Larry Sharp — a respected businessman, community leader and philanthropist.