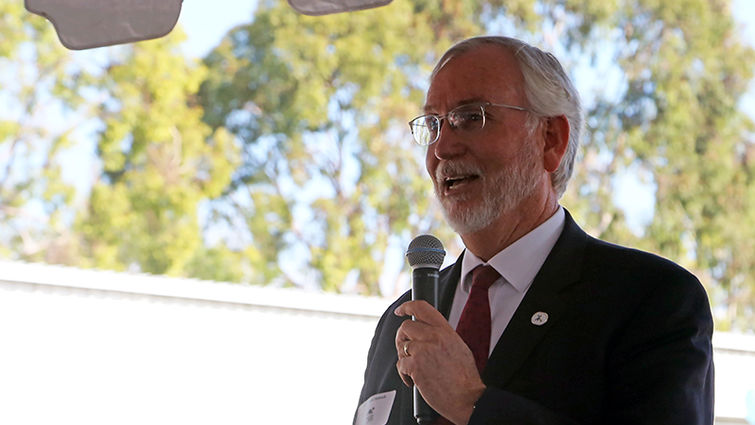 At the grand opening of the Inland Empire Autism Assessment Center of Excellence (AAC), Richard Chinnock, MD, medical director at Loma Linda University Children's Hospital, told the crowd of more than 200 that many people were instrumental in bringing the center into existence. The event was held from 10:00 a.m. to noon on Friday, January 6, at 1499 S. Tippecanoe in San Bernardino.
"This is an amazing day," Chinnock observed. "It marks the successful culmination of five years of dedication and hard work on the part of a variety of individuals and organizations who wanted to do something for an underserved minority in our community: children with autism and their families. I am happy to report that this is now one of the finest autism assessment centers in the nation, offering comprehensive diagnostic evaluation with multiple providers all under one roof. This is truly remarkable!"
According to Linda Wu, MSN, AAC board member, the center is a place where a team of specialists and experts in child development and autism spectrum disorder (ASD) work together to provide transdisciplinary diagnostic evaluations tailored to the child.
Wu says members of the assessment team may include pediatric neurologists, developmental behavioral pediatricians, pediatric neuropsychologists, pediatric neurodevelopmental psychologists, occupational therapists, speech and language pathologists, behavioral specialists, mental health clinicians, and/or educational psychologists and geneticists. 
After touring the center, the audience convened under a tent in the parking lot to hear speaker after speaker extol the efforts of the organizations that created the center:
Autism Society Inland Empire
Children's Network
First 5 Riverside
First 5 San Bernardino
Inland Empire Health Plan (IEHP)
Inland Regional Center
Loma Linda University Health
Molina Healthcare
Riverside and San Bernardino county behavioral health departments
Riverside and San Bernardino county schools, SELPS's and pre-schools
Children's Fund
In addition to Chinnock, speakers included: Roger Uminski, director of health administration at IEHP; Peter Currie, PhD, senior vice president at California Health Care Foundation and chair of the AAC board; Tom Lackey, assembly member from California's 36th district; James Ramos, chair of the San Bernardino County Board of Supervisors; Kiti Randall, PhD, medical director for AAC; David Asbra, field representative for Marc Steinorth, assembly member from California's 40th district; Bradley Gilbert, PhD, CEO of IEHP; Laura A. Mancha, community liaison for Josie Gonzalez, 5th district supervisor; and Angelica Munguia, mother of a child evaluated at the center. Although she did not directly address the crowd, Karen E. Scott, executive director at First 5 San Bernardino, received awards on behalf of her organization as well as First 5 Riverside.
Munguia spoke with fervor as she recounted her five-year struggle to find out what was wrong with her son. She shared her frustration in taking him to multiple providers, only to be told he was perfectly healthy. Finally, she heard about AAC and brought him in.
Munguia was amazed when the evaluation was completed in just two sessions and the results provided at the second appointment. She was relieved to know that center professionals not only understood what she had been experiencing as the parent of a child with a neurodevelopmental disability, but were able to recommend treatment strategies.
Afterward, Currie expressed sympathy for Munguia's plight.
"Parents of children living in the Inland Empire who go through the heartache of knowing that something is wrong with the way their child is developing and behaving now have a place to go for answers," he observed. "Up until the opening of the center, parents struggled to obtain answers and had to navigate referrals to multiple specialists in trying to piece together a diagnosis and treatment plan."
Fortunately, he says, the long delays are over.
"Now in one stop," Currie concluded, "parents can get the answer and start their child on the right path to develop their fullest potential." 
Mabell Salazar, clinic manager, noted that, "The grand opening was such an exciting event for the AAC since there has been such hard work put into this center in the last year to get our doors open." After commending board members Bev Ching and Linda Wu for planning the event, Salazar thanked IEHP for providing 10 volunteers to staff the opening.
"All of our guests who attended gave positive feedback on the appearance, logo, and overall set-up of our center," she concluded.
Wu says the center represents something vitally important to the community.
"The grand opening signifies hope to our area for children with ASD and their families," she said, adding her hope that the center's method for diagnosing ASD could be modeled throughout the country.
Kiti Freier Randall, PhD, medical director of AAC, applauds the coalition that came together to make the community a better place for children with ASD.
"The agencies represented in the collaborative have, regardless of potential differences, remained committed to keeping the children at the center of the effort," Randall reported. "AAC is committed to continuing to work with the Inland Empire community to help to maximize the quality of life for children."
Wu noted that despite the fact that the rising prevalence of ASD—she says it affected one in every 68 children in 2014—she remains positive about the future.
"Our children," she concluded, "regardless of their degrees of ability, deserve excellent care. Early and accurate diagnosis means timely interventions and greater potentials. We as a community really need to support these tremendous, yet predictable, needs."