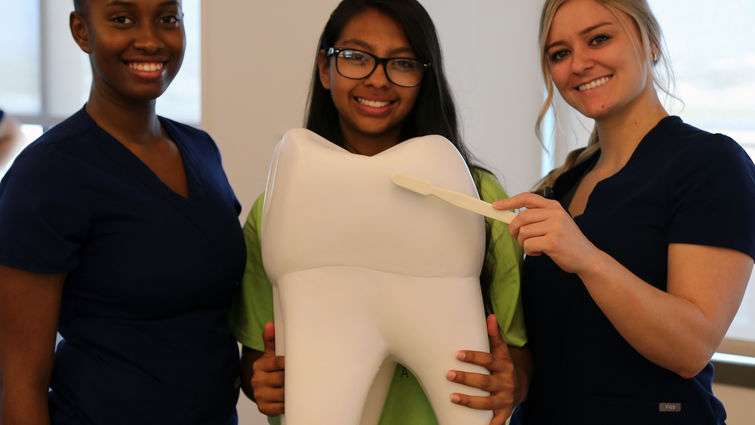 Students and faculty from Loma Linda University volunteered their time to introduce local middle school students to careers in health science during a Science Fair held on campus on Feb. 8.
More than 95 students from Curtis Middle School and Dr. Martin Luther King Jr. Middle School in San Bernardino learned about health science careers in a fun and interactive format.
Booths tailored to the age group, with hands-on learning activities, were run by some 50 volunteer students from the Loma Linda University School of Allied Health Professions, School of Dentistry, School of Medicine, School of Nursing and School of Public Health. Booth topics included biology, geology, orthotics, dental hygiene, nursing and medicine.
In addition, Science Fair attendees toured the Medical Simulation Center (MSC), a state-of-the-art virtual hospital designed to simulate the patient flow process; the Alfred Q. Shryock Embryology Museum, which houses a collection of human fetuses throughout different stages of the development process; and the Neuropathology Lab, which contains countless specimens modeling stroke, and other neurological abnormalities.
One middle school student said the Science Fair was her first opportunity to explore health science careers. "I had so much fun learning about professions that use science," she said. "Someday, I want to become a doctor and go to school at Loma Linda University."
The Science Fair is a pilot community collaborative organized by the Loma Linda University Student Association and Community-Academic Partners in Services (CAPS), part of the Institute for Community Partnerships.
According to CAPS director, Pablo Ariza, there are currently three on-campus pipeline programs that introduce high school students from the surrounding community to careers in health professions: My Campus, Summer Gateway Program and the Robotics Surgery Simulation Program.
Ariza says CAPS newest pilot pipeline program — offered exclusively to middle school students — is the first of its kind at Loma Linda University Health. 
"Our motivation for this new program comes out of the need to increase awareness of health professions among a younger and more impressionable age group and address the current shortage of underrepresented minorities in the health workforce," said Juan Carlos Belliard, PhD, MPH, director, Institute for Community Partnerships. 
"This program for children from diverse backgrounds is an investment in the next generation of health science professionals and healthcare providers," Belliard said.
To learn more about on-campus community outreach programs visit the CAPS website or call 909-651-5011.