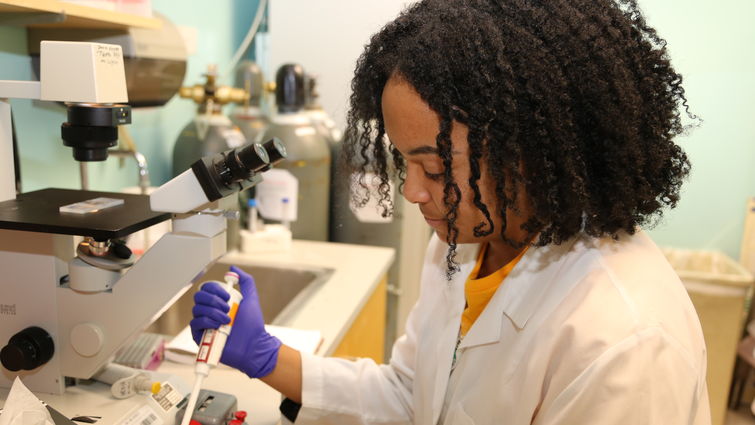 Education is one of the effective ways to help break the poverty cycle and increase job opportunity among minorities — who are more than two times as likely to be poor than non-Hispanic whites and represent only 8% of the STEM and 11% of the physician workforce — in the United States, according to Marino De Leon, PhD. 
As director of Loma Linda University School of Medicine Center for Health Disparities and Molecular Medicine (CHDMM), De Leon says he has witnessed how Black and Hispanic students have benefited over the years from educational interventions to increase their participation in biomedical fields.
"Minorities experience health disparities primarily because of a variety of social determinants of health, including poverty, inadequate access to healthcare, educational opportunities and discrimination," he says.
Established in 2005 with an award from the National Institutes on Minority Health and Health Disparities, the center has recruited and trained hundreds of minority students into the fields of medicine and health sciences — helping to diversify the workforce in the local community and nationwide.
The CHDMM brings together a diverse team of over 30 researchers that serve as mentors. This team has conducted hundreds of studies, published more than 150 scientific papers while training a new generation of health disparities scholars. 
The center's investigators are actively doing research on biological determinants in cancer, diabetes, neuropathy pain and traumatic stress that are linked with social determinants, which help explain mechanisms behind health disparities, De Leon says.
Researchers at the CHDMM are currently funded by grants from the National Institutes of General Medical Sciences (NIGMS), National Cancer Institute, and the National Institutes for Diabetes and Kidney diseases. The center addresses health disparities through research by engaging the local community and expanding the participation of underrepresented minority students in STEM (science, technology, engineering, math) and biomedical fields.
De Leon says 63% of students in the center's program have expressed experiencing discrimination and social, economic or educational disadvantages prior to enrollment.
Its programs include:
Apprenticeship Bridge to College (ABC) Program – An eight-week summer internship in health disparities research for high school students living in Southern California's Inland Empire who are from disadvantaged backgrounds or belong to groups that are nationally underrepresented in STEM disciplines. 271 research internships have been awarded.
"Today, about 65% of past ABC program have completed their undergraduate degree in a STEM discipline, almost four times the rate shown for underrepresented minority students nationwide," De Leon says.
Undergraduate Training Program – A two-month summer research internship for undergraduate college and university students, focusing on practical lab research experience alongside distinguished faculty, while providing mentorship in support of their future academic and research goals. 274 research summer internships have been awarded.
"Our students are given a competitive advantage and with 80% going on to pursue PhD or MD programs at Loma Linda University or other top-tier universities around the country," De Leon says. More than 200 program alumni have gone on to work in academic, clinical or pharmaceutical positions."
Medical Training Program – Open to students following their first year in medical school, this summer program enables underrepresented minority medical students to gain basic research and scientific experience on a selected summer research project with prominent scientists. Students are compensated with a stipend during the program through funding.
"More than 116 medical students have participated and have advanced to become physicians and research scientists leading the way in the examination of health disparities," De Leon says.
Initiative for Maximizing Student Development (IMSD) Program – 59 awards have been made through this NIH funded year-round educational graduate training program that provides full support (tuition and salary) for PhD students enrolled in the LLU Integrated Biomedical Graduate Studies Program in the School of Medicine. The program strengthens graduate education by increasing diversity among students graduating with a PhD degree in a biomedical discipline at Loma Linda University, which is one of 41 research universities in the U.S. that are funded by NIGMS to implement the IMSD program. 
"Our program graduates are leading the way as faculty or scientists in academia, industry and government working to eliminate health disparities across the nation," De Leon says.
To learn more about minority health disparity research or apply to one of the Center for Health Disparities and Molecular Medicine's education programs, visit their website.