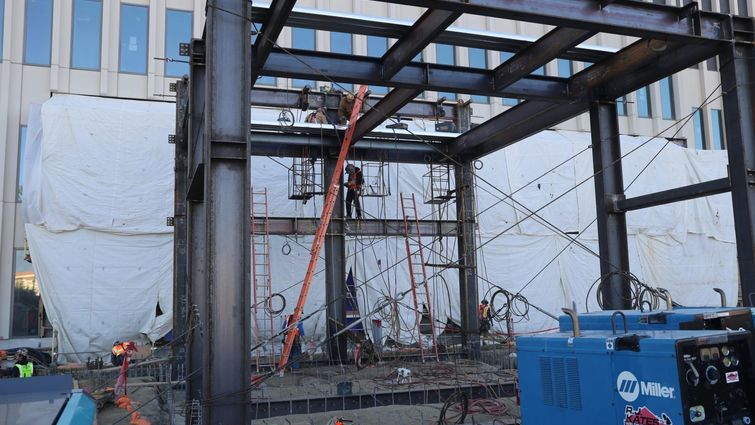 A new Galleria and main entrance area for Loma Linda University Health's new hospital facilities is starting to appear on the building's north side. Designed to be a visual statement of Loma Linda University Health's commitment to whole person care, the entrance area is intended to welcome patients and visitors to a calming setting that inspires hope.
Workers spent the final days of 2019 digging trenches and laying rebar reinforcement steel into place to support the new arrival area. The Galleria structure will be constructed in three phases. The steel framing for the central section has been put into place. After the concrete foundations have been poured, the Galleria's east and west sections will begin to rise.
While the steel framing is put into place, workers will also ensure that the ground level of the Galleria/entrance area precisely aligns with the floor in the new entrance lobby. While much of the work is going on behind the project's safety walls, the Galleria's steel structure can be seen from the hillside area near Nichol Hall.
The most visible aspect of Vision 2020 – the Campaign for a Whole Tomorrow, the new adult hospital and Children's Hospital tower will incorporate leading advances in patient safety and comfort. Designed to continue Loma Linda's 115-year legacy of outstanding care, the new buildings meet the future needs for adaptability and expansion. The new hospitals will anchor the healthcare needs of a vast region of Southern California, and serve as an educational and research hub to shape healthcare in the United States and around the world.
You can follow the rise of the towers on a daily basis by checking the construction webcams.
We're sharing photographic updates of the hospital construction work on a periodic basis. Watch for special emphasis on some of the behind-the-scenes-views and untold stories at the Vision 2020 website.
 This vignette is adapted from a blog by Dennis E. Park, which appears on the website www.docuvision2020.com.